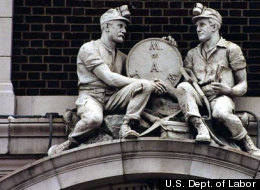 The South Side home of "father of modern Chicago blues" Muddy Waters, a group of Windy City bascule bridges and an elegant 1920s theater are among Landmarks Illinois' "10 Most Endangered Historic Places" of 2013.
(See photos of all 10 historical places below.)
The Chicago-based organization revealed its annual list Tuesday in Springfield with the hopes of bringing attention to structures around the state it says are "threatened by deterioration, lack of maintenance, insufficient funds, or inappropriate development."
Several structures on the list are are headed toward demolition, including Waters' one-time Chicago home. According to the Associated Press, the South Lake Park Avenue brick row home has been vacant for a decade and is in foreclosure proceedings.
"Anybody who was anyone was in that house," said Tim Samuelson, a cultural historian with the city's Department of Cultural Affairs. "I always call it the real House of Blues."
The Daily Herald notes that while a Landmarks Illinois designation "carries no regulatory or official power," President Bonnie McDonald explained a nod can bring renewed public interest that may spur fundraising efforts or potential investors.

Since the program started in 1995, the council says 52 sites have been saved, 40 have been demolished or substantially altered, 80 are still threatened and 13 have a rehab pending or underway.
Illinois' 10 Most Endangered Historic Spaces
Chicago Bascule Bridges Chicago (Cook County) Chicago has more moveable bridges than any other city in the world, with Bascule bridges among the most common. But many bascules, such as the Chicago Avenue Bridge (622 W. Chicago) and Division Street Bridges (829 W. Division and 1129 W. Division) are no longer operable and may be replaced with fixed bridges in the future. Currently, there is a reconstruction project slated to finish in early May on the Wells Street Bridge.

Community Mausoleums (Statewide) Pictured: Beecher Mausoleum Beecher (Will County) Landmark Illinois says a "lack of oversight and financial support" has caused many mausoleums around Illinois to fall into disrepair. The structures were built by the dozens in the early 1900s as part of a nationwide movement to provide affordable above-ground entombment for the poor and middle class.

Gage House Winnetka (Cook County) According to Winnetka-Glencoe Patch, Winnetka's Gage House is a "pre-Civil War home that served as a make-shift hospital and morgue after Lady Elgin sank in Lake Michigan in 1860." Patch reports the current owner has filed for a demolition permit in order to construct a larger house closer to the lake.

Lincoln Colored Home Springfield (Sangamon County) According to the Historic Sites Commission of Springfield: "The Lincoln Colored Home is in a mixed residential and commercial neighborhood bordering on the east edge of the downtown area. The structure's importance comes from the intimate connection of this building to the history and lives of African Americans in Springfield. This building served orphan African American children and elderly women at a time when the existing social service facilities were not open to them."

Madison Theatre Peoria (Peoria County) Built in 1922 and anchoring a key block in Peoria's downtown, the Madison Theatre has sat vacant for almost 10 years. According to the Peoria Journal-Star, "A group of local musicians and music enthusiasts is hoping to raise enough cash and support to get the historic Madison Theater reopened as an entertainment venue."

Mineola Hotel Fox Lake (Lake County) Landmarks Illinois calls the Fox Lake structure "Possibly the largest wood-frame building in the state." The former hotel was built in 1884 by members of the Chicago Board of Trade as a private clubhouse.

Miner's Institute Collinsville (Madison County) The Miner's Institute opened in 1918 and was built with funds provided by the local coal miners' union, according to Landmarks Illinois. Built in the category of Classical Revival architecture, several ornaments around the structure, including the two stone miners over the entry way, pays homage to Illinois mining history. With the decline of the coal mining industry in the Collinsville region, the union sold the building in the 1960s and it was used as an entertainment venue under various owners.

Muddy Waters Residence Chicago (Cook County) The South Lake Park Avenue brick row home where Chicago Blues legend Muddy Waters once lived has fallen into disrepair since his death and is currently in foreclosure. "Anybody who was anyone was in that house," said Tim Samuelson, a cultural historian with the Chicago Department of Cultural Affairs. "I always call it the real House of Blues "

Newcomb Hotel Quincy (Adams County) The Newcomb Hotel was designed by St. Louis architect Isaac Taylor and situated in Quincy's Downtown Historic District, according to Landmarks Illinois. The mix of Classical and Romanesque details was eye-catching for many investors, but the building has been vacant more that 20 years, which LI says has contributed to its deterioration.

Joel Wiant House West Chicago (DuPage County) Also known as the John W. Leedle Home, the Joel Wiant House in imminent danger of being demolished by order of the West Chicago City Council, according to a local preservation group. The house has been home to at least two very prominant citizens in West Chicago: Joel Wiant, one of the city's earliest settlers and businessmen, and John W. Leedle, West Chicago's first city attorney.