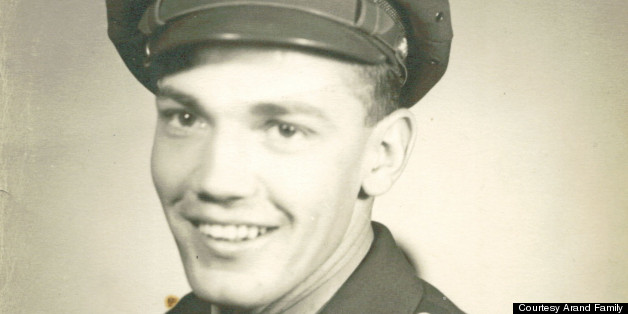 Courtesy Arand Family
More than six decades after Robert G. Arand's wife donated his military bomber jacket, the sentimental piece of clothing found its way back to the 90-year-old's closet, thanks to a good Samaritan.
While perusing the racks at a Goodwill shop in Washington, D.C., John Dodds, assistant general counsel for the Air Force and a military history expert, came across a brown leather bomber jacket and immediately knew it was a relic, Stars and Stripes reports. The lieutenant bars were still intact on the shoulders and it had Arand's name tag sewn on the front.
Dodds paid $17 for the jacket and tracked the WWII pilot down within 24 hours.
But Arand is just one of a number of vets who offer hope to those who have lost their beloved gear.
Also a WWII vet, Kadar had served in France and last saw the bag in November 1944, just before the Germans captured him.
A French teen had found the duffel, with Kadar's name and serial number still stenciled on it, in his grandfather's house and returned it with a note.
Also on HuffPost:
Man Reunites WWII Vet, 90, With Bomber Jacket
FOLLOW HUFFPOST