We at HuffPost are no strangers to crazy sodas. Seriously, we've drunk buffalo wing and bacon soda in the name of journalism and we're not afraid to do it again. That said, we're not jumping up and down to try the new poutine-flavored soft drink from the ever-inventive Jones Soda Co.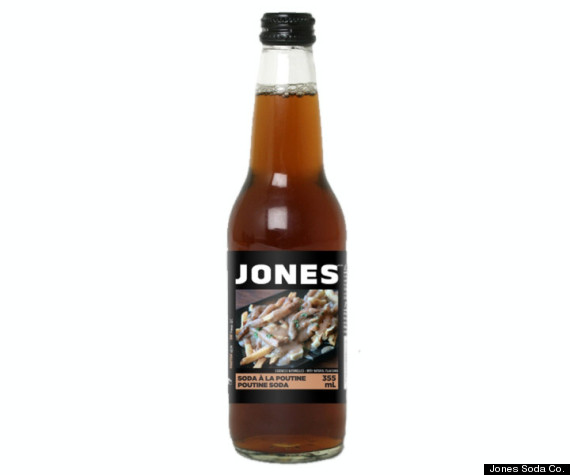 The limited-edition offering takes its flavor cues from the famous Canadian dish, which is essentially French fries and cheese curds slathered in gravy. According to Brand Eating, the flavor is "a nice balance of rich, savory gravy over a starchy potato base, and accented with those fatty, cheesy notes you expect in a plate of poutine."
Unfortunately for poutine-heads the world over, this soda will only be available in some parts of Canada, including Quebec, Ontario and Vancouver. But don't fret, HuffPost is going to try to get our hands on a bottle or two. Stay tuned for the taste test that is (hopefully) to come.
Until then, take a look at some brave customers' reactions to the drink on YouTube, several of which have been posted to Jones Soda Co.'s Twitter page. The gentleman below doesn't seem to enthused with the soda's taste.
[h/t Neatorama]
Also on HuffPost:
Loading Slideshow
Peanut Butter And Jelly Soda

Editors agreed overall that the peanut butter and jelly-flavored soda smelled a bit like jelly and had a slight peanut butter aftertaste, but it didn't exactly taste like a sandwich. Few were outright appalled by the taste, but no one loved it. "Tolerable in small doses," wrote one editor. "Not as bad as you might think."

Coffee Soda

The coffee flavor in this soda was definitely on the subtle side. Few of us were fans. One editor said it tasted "like bad coffee," and another noted some nutty undertones.

Pumpkin Pie Soda

Nearly everyone agreed that the pumpkin pie soda smelled strongly of cloves, but the pumpkin flavor wasn't really there. "Would be good mixed with winter cocktails," wrote one editor. "I don't want to drink pumpkin pie -- not even at Starbucks," wrote another.

Buffalo Wing Soda

The general consensus across the board was that this was one of the weirdest soda of the bunch. It scored lowest in flavor at 2.3 out of 10 possible points. It didn't really taste like buffalo wings, either. "I would never guess what this is," one editor wrote. It did, however, have a discernable spiciness on the nose.

Bacon Soda

Bacon soda? More like bacon bits soda. At least that was our impression. Many editors made note of a strong burnt flavor in place of the smokiness we'd expected. One editor's pain says it all: "Winced. Really not a fan." It scored low on taste, with 2.5 points out of a possible 10.

Sweet Corn Soda

We were all pleasantly surprised by the sweet corn soda, which got high marks on both drinkability and how closely it resembled canned corn in taste. One editor called the flavor "uncanny," (pun intended?) adding, "I think I could drink a bottle of this!" Another editor, however, couldn't get over the color, noting that it "looks violently yellow."