For his six month anniversary with his girlfriend Kristen, 26-year-old student and New Yorker Danny made a huge collage of photos of the two of them (they've known each other since middle school). The only problem, he told the Huffington Post in an email, was that he didn't know how he was ever going to top it.
Well, let's just say he did. The day before the couple's one-year anniversary, Danny and a group of friends plastered flyer below all over New York City. On it, Danny declared, "I LOVE HER" and told the story of how he and Kristen met and fell in love (she friend zoned him for years). Then he asked anyone reading to take a picture with or of the flyer and post it to Instagram or Twitter with the hashtag #EYJDK (Enjoy Your Journey Danny and Kristen.)
I know. Awwwwwwwwww.
The flyer very quickly went viral -- we stumbled upon it on Reddit -- and Danny said that they've received over 1,000 photos since. He called the response "mind blowing" and said that he and Kristen have experienced a "roller coaster of feelings" in the aftermath. At first Kristen laughed at the photos people took making fun of Danny, but she was pretty psyched the evening of their anniversary when Matt Lauer (Kristen's celebrity crush mentioned in the flyer) tweeted the photo.
Kristen's response, according to Danny? "OMG!"

LOOK: The Best Anniversary Gift Ever?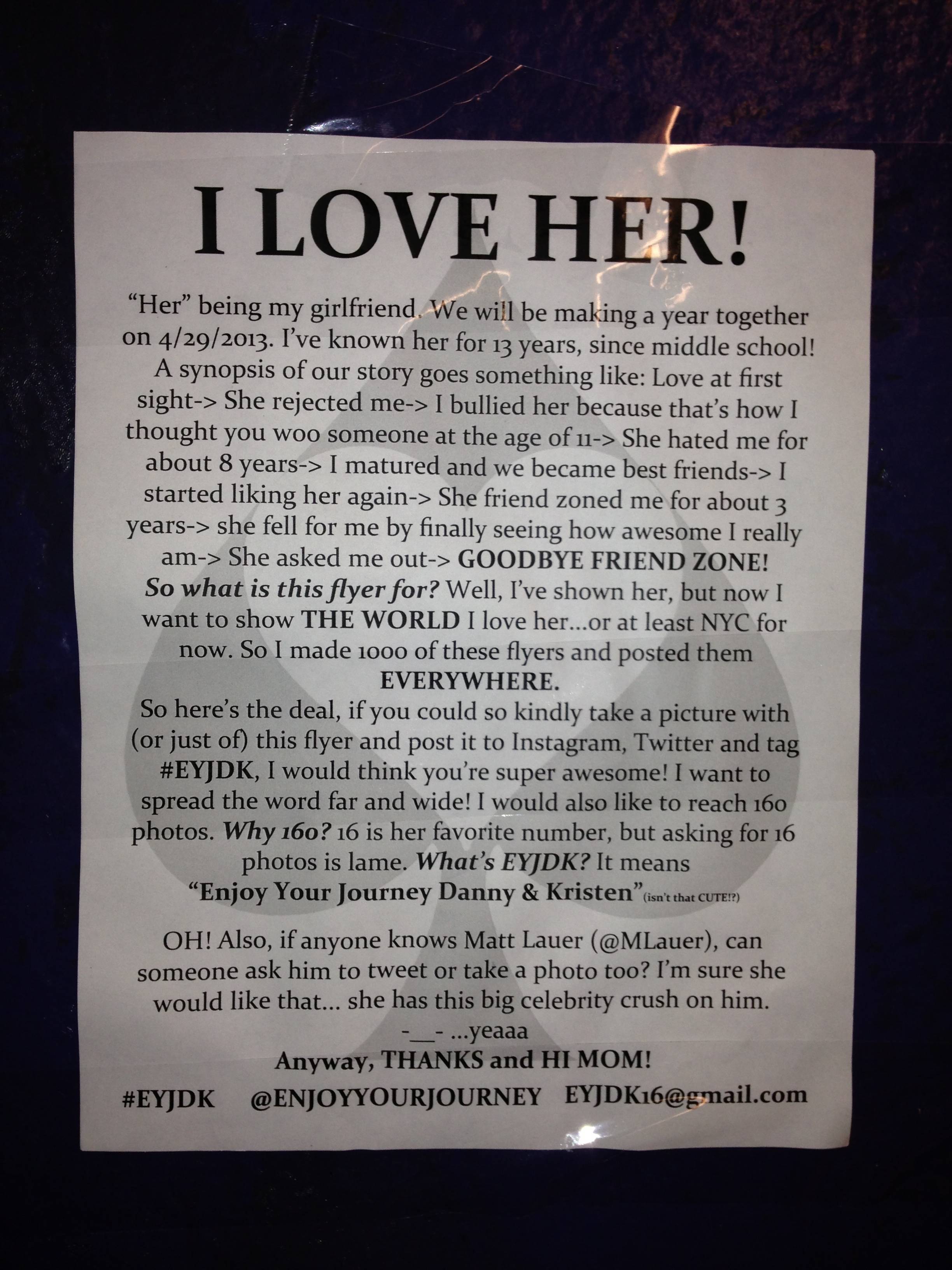 Related on HuffPost:
Loading Slideshow
10. Punch-Drunk Love (2004)

A psychologically troubled novelty supplier is nudged towards a romance with an English woman, all the while being extorted by a phone-sex line run by a crooked mattress salesman, and purchasing stunning amounts of pudding.

9. Eternal Sunshine of the Spotless Mind (2004)

A couple undergo a procedure to erase each other from their memories when their relationship turns sour, but it is only through the process of loss that they discover what they had to begin with.

8. A Matter of Life and Death (1946)

A British wartime aviator who cheats death must argue for his life before a celestial court.

7. The Apartment (1960)

A man tries to rise in his company by letting its executives use his apartment for trysts, but complications and a romance of his own ensue.

6. Brokeback Mountain (2005)

The story of a forbidden and secretive relationship between two cowboys and their lives over the years.

5. Harold and Maude (1971)

Young, rich, and obsessed with death, Harold finds himself changed forever when he meets lively septuagenarian Maude at a funeral.

4. Annie Hall (1977)

Neurotic New York comedian Alvy Singer falls in love with the ditsy Annie Hall.

3. In the Mood for Love (2000)

A man and a woman move in to neighboring Hong Kong apartments and form a bond when they both suspect their spouses of extra-marital activities.

2. Casablanca (1942)

Set in unoccupied Africa during the early days of World War II: An American expatriate meets a former lover, with unforeseen complications.

1. Brief Encounter (1945)

In the most romantic film ever, as voted by readers of Time Out magazine, a woman (Celia Johnson) meets a stranger in a railway station, and is tempted to cheat on her husband. And that's it. A thousand hankies at the ready...