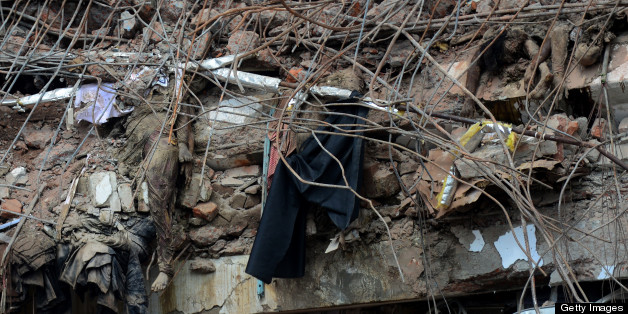 The collapse of a garment factory complex in Bangladesh last month -- a disaster that claimed the lives of more than 500 people -- has renewed attention to a basic fact of globalization: People in poor countries, toiling in often unsafe conditions, make many of the clothes that land on store shelves in wealthy countries, including the United States.
The factories at the scene of this lethal accident produced wares for a host of major global brands, including, by several reports, three U.S. retail companies -- The Children's Place, Cato Corporation and the Ascena Retail Group (the parent company of DressBarn). All three have described only tenuous links to the Rana Plaza building, but shipping records and documents found on the Bangladeshi site show a more direct connection to the companies.
The Children's Place, a New Jersey-based retailer, told The New York Times earlier this week that "none of our apparel was in production" at the factory "at the time of this terrible tragedy," although, the Times noted, the company received a shipment of clothes from the facility on April 5 of this year. Cato Corporation, a North Carolina-based retailer, made a similar statement to the paper.
Behind these prominent brands stand a vast number of less-conspicuous but crucial players: the investors who have profited from the global garment trade.
The three American brands are publicly traded, with their shares owned widely by institutional investors, from mutual funds to pension funds. Since the day of the disaster -- April 24 -- the companies' share prices have all risen, suggesting that investors are expecting no significant consequences for any of them.
The Huffington Post called more than 30 of the largest holders of those three companies to try to ascertain whether investors have any plans to divest from those companies or otherwise respond to the Rana Plaza disaster. Most declined to comment. The funds that replied generally said they make their investments with one simple aim: delivering return to their investors.
"We're an investment management firm," Lori McEvoy, a senior vice president at Fred Alger Management, told HuffPost. "We take decisions based on the direction of retirement funds."
According to government filings, the following are the largest institutional investors in those three American companies connected to the tragedy in Bangladesh:
BlackRock Institutional Trust Company, an investment manager that holds $28.7 million worth of stock in The Children's Place, $17.7 million in Cato and $62 million in Ascena;

The Vanguard Group, another investment manager, which holds $61.4 million of The Children's Place, $38.5 million of Cato and $127 million of Ascena stock;

Adage Capital Management, a Boston-based fund that holds $97.1 million of The Children's Place stock;

Royce and Associates, which holds $78 million of The Children's Place, $99 million of Cato and $148 million of Ascena stock;

Westwood Management Corporation of Texas, which owns $47 million of The Children's Place stock;

Schroder Investment Management North America, which holds $43.6 million of The Children's Place and $7.5 million of Cato stock;

Lord, Abbett & Co., which holds $35.1 million of The Children's Place and $43 million of Ascena stock;

Wellington Management, which holds $208,000 of The Children's Place, $91.5 million of Cato and $103.9 million of Ascena stock;

Dimensional Funds Advisors, LP, which holds $12.6 million of The Children's Place, $18.7 million of Cato and $16.2 million of Ascena stock.
13 Deadly Workplace Disasters
SUBSCRIBE AND FOLLOW
Get top stories and blog posts emailed to me each day. Newsletters may offer personalized content or advertisements.
Learn more