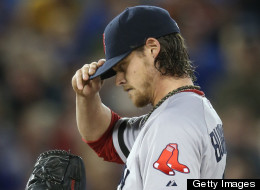 Two broadcasters for the Toronto Blue Jays believe that Clay Buchholz's impressive start to the season might be too good to be true and have accused the Red Sox ace of cheating.
Jack Morris, a former All-Star pitcher and current Blue Jays broadcaster, told Gordon Edes of ESPNBoston.com that he's convinced Buchholz was throwing a spitball in his last start on Wednesday night against Toronto.
"I found out because the guys on the video camera showed it to me right after the game," Morris told Edes. "I didn't see it during the game. They showed it to me and said, 'What do you think of this?' and I said, 'Well, he's throwing a spitter. Cause that's what it is."
Dirk Hayhurst, another Blue Jays broadcaster and former major league pitcher, accused Buchholz of using a foreign substance on Twitter.
Forget the hair, I just saw video of Buchholz loading the ball with some Eddie Harris worthy slick'em painted up his left forearm. Wow.

— Dirk Hayhurst (@TheGarfoose) May 2, 2013
Could be rosin, could be something else. Looked awfully fishy, is all. twitter.com/TheGarfoose/st…

— Dirk Hayhurst (@TheGarfoose) May 2, 2013
Buchholz and Red Sox manager John Farrell both vehemently denied the claims.
"There's a rosin bag behind the mound and it's there for everybody to use every inning after our warm-up," Buchholz said on Thursday, shortly after being named pitcher of the month for April, via Evan Drellich of MassLive.com. "Put rosin on my arm throughout the game. Sweat, water, whatever. ... Sometimes I put a little thing of water on my hip just to get moisture on your hands. Cause sometimes the balls that they throw to you feel like cue balls off a pool table. Got to find a way to get grip. But yeah, I mean, definitely no foreign objects or substances on my arm."
Before Boston's game against Toronto on Thursday night, Farrell told reporters that the accusations "bothers me immensely."
"I've seen some people that have brought photographs to me, they are false," said Farrell, per Chris Toman of MLB.com. "The fact is the guy is 6-0, he has pitched his tail off and people are going to point to him cheating? Unfounded."
During Boston's win on Thursday, Blue Jays radio broadcaster Mike Wilner tweeted that something on Red Sox reliever Junichi Tazawa's arm.
Wow, is Tazawa's right forearm glistening right now And in a very odd pattern. #Bluejays #Jays #redsox

— Mike Wilner (@Wilnerness590) May 3, 2013
MORE FROM THE ASSOCIATED PRESS
TORONTO (AP) — Boston Red Sox manager John Farrell is upset by accusations pitcher Clay Buchholz was putting a foreign substance on the ball during Wednesday's victory over the Toronto Blue Jays.

Former major league pitcher Dirk Hayhurst, now a broadcast analyst for the Blue Jays, told Toronto radio station Sportsnet 590 The Fan on Thursday that Buchholz was "absolutely" cheating in Wednesday's start.

An article on the Sportsnet website included photographs of Buchholz, including one showing him wiping his first two fingers across his forearm, which appeared to be partially covered with a white substance.

Buchholz brushed aside the allegations, saying he puts rosin on his arm and occasionally wets his fingers to get a better grip.

Farrell insisted the photos were "false" and backed Buchholz's claim about rosin.

Buchholz (6-0) leads the majors in wins and the AL in ERA (1.01).