There are plenty of porn stars who make extra cash by guest-dancing at strip clubs across the country, and it looks like that might be what's up next for Farrah Abraham.
The former "Teen Mom" star just sold her sex tape with porn star James Deen to Vivid Entertainment, and now she's showing everyone just how limber she can be.
On Thursday, the 21-year-old single mother apparently invited a photographer to document her pole dancing skills at a dance class in Austin.
Abraham's porn video "Farrah Superstar: Backdoor Teen Mom" hits the web on May 6, and we have a feeling we're about to see a lot more of her -- without clothes on, that is.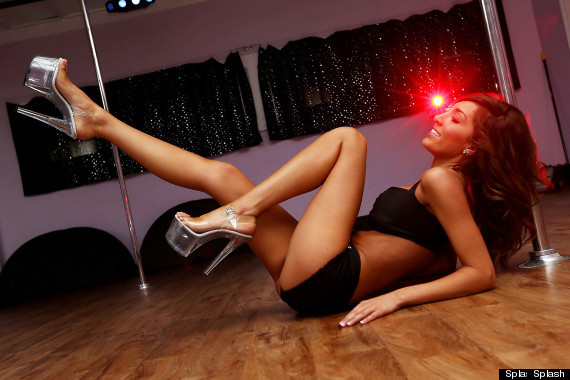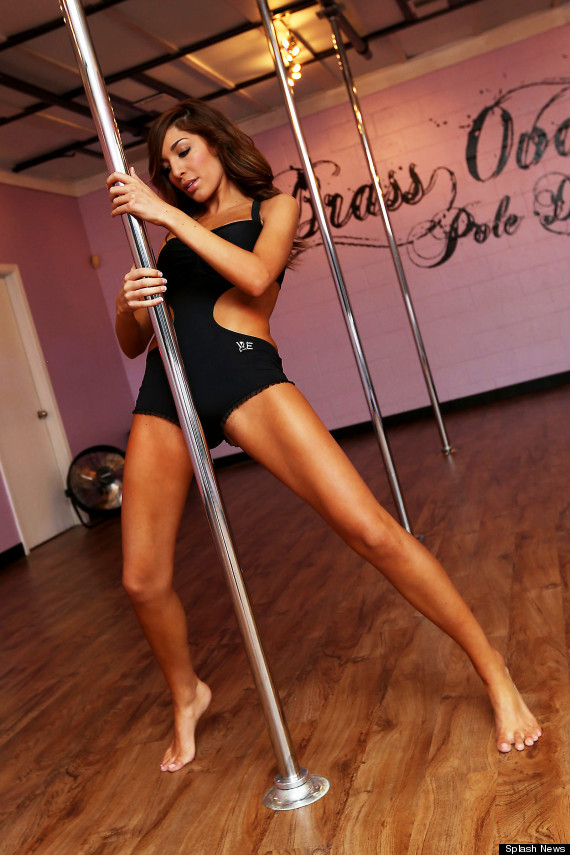 Also on HuffPost:
Loading Slideshow
Jennifer Lopez

In 2011, excerpts of J.Lo's sex tape with ex-husband Ojani Noa leaked online (the tape was supposedly filmed during their honeymoon in 1997). Noa tried to make a profit by selling his famous ex's nude footage, but <a href="http://www.celebdirtylaundry.com/2011/leaked-jennifer-lopez-ojani-noa-honeymoon-sextape-video/" target="_blank">Lopez had the tape locked in a safety deposit box under court order</a> so it will never see the light of day.

Joe Jonas

Rumors of an explicit sex tape featuring the Jonas brother and his model girlfriend, Blanda Eggenschwiler, <a href="http://blindgossip.com/?p=51632#more-51632" target="_blank">made the rounds last week</a>. Though very specific and quite wild, Jonas took to Twitter to debunk the rumors and wrote "<a href="http://www.huffingtonpost.com/2013/03/22/joe-jonas-sex-tape_n_2928462.html" target="_blank">ball gag? really? me? come on guys</a>."

Shiri Appleby

A full-frontal selfie of the former "Roswell" and current "Girls" star surfaced last week. Gawker featured it uncensored (<a href="http://gawker.com/5991380/shiri-appleby-has-least-celebrated-nude-photo-leak-in-internet-history-nsfw" target="_blank">careful, NSFW</a>) but it is yet unclear who's behind it or why the photo leaked, and when it was taken (Appleby is currently 9-months pregnant, so it isn't recent).

Taylor Swift

At some point after their much publicized breakup, <a href="http://www.huffingtonpost.com/2013/02/08/taylor-swift-harry-styles-sex-tape_n_2646806.html" target="_blank">Harry Styles and Tay Swift were said to be at the center of a new sex tape scandal</a>. Fortunately for the two young stars, it was later revealed to be an online hoax. Two years earlier, the celebrity skin website <a href="http://www.huffingtonpost.com/2011/10/31/taylor-swift-caught-in-nude-photo-scandal_n_1066923.html#s=442981" target="_hplink">Celeb Jihad posted photos of an allegedly topless Swift with the headline "Taylor Swift Topless Private Pic Leaked?"</a> Swift's lawyers acted quickly, demanding that the fake photo be removed from websites.

Rihanna

In 2009, naked photos of the singer surfaced online and were rumored to have been leaked by Chris Brown. Though the singer isn't shy about her body, she wasn't happy when the photos leaked. She told radio station Hot 97 that it was "the worst thing that could possibly ever happen to" her. "I just felt like my whole privacy was taken before that [by the injury photo] and then, when that came out, I thought, 'Oh great, so now there's nothing they don't know about me and my private life.' It was humiliating and it was embarrassing," <a href="http://music-mix.ew.com/2009/12/02/rihanna-talks-naked-photos-leak/" target="_hplink">she said in December 2009.</a>

Chris Brown

In 2011, an ex-girlfriend of Chris Brown turned on him and leaked <a href="http://perezhilton.com/2011-03-04-chris-brown-naked-photo-leaks" target="_hplink">full-frontal nude photos online</a>. The singer later addressed the photos on radio show "Big Boy's Neighborhood" and brushed off the photo leak, <a href="http://theybf.com/2011/03/15/finally-chris-brown-talks-openly-about-leaked-nude-pics" target="_hplink">claiming he wasn't ashamed of his body and has no regrets. </a>

Rebecca Gayheart and Eric Dane

In 2009, Gawker posted excerpts from a "private" adult tape featuring "Grey's Anatomy" star Eric Dane, his wife Rebecca Gayheart, and former beauty queen-turned-"Celebrity Rehab" patient, Kari Ann Peniche. Reps for the couple claimed <a href="http://www.accesshollywood.com/reps-for-eric-dane-rebecca-gayheart-and-kari-ann-peniche-respond-to-racy-video_article_21843" target="_blank">it was not a sex tape but rather a "fun" tape for "personal use."</a> The excerpts can no longer be found on Gawker.

Miley Cyrus

Last summer, a suggestive photo of Cyrus in a tub made the Internet rounds. <a href="http://www.huffingtonpost.com/2012/08/01/miley-cyrus-poses-nude-bathtub-liam-hemsworth_n_1729110.html" target="_blank">The singer's photographer friend Vijat Mohindra took the photo and displayed it on his website</a>, even though Miley was only 18 at the time. The photo was said to have been taken privately for Cyrus' fiance, Liam Hemsworth.

Snooki

"Jersey Shore" star and new mom Snooki has had not one, but two nude photo scandals. The pint-size star's nudes first hit the web in April 2010, when <a href="http://www.huffingtonpost.com/2010/02/12/snooki-naked-nude-pic-rel_n_460388.html" target="_hplink">her photo was anonymously posted at the website NakedSnooki.com</a>. The reality star had <a href="http://www.huffingtonpost.com/2012/06/09/snooki-nude-photos-jersey-shore-nude-cell-photos-leak_n_1583167.html" target="_hplink">another nude photo leak in June 2012</a>. Her rep then told reporters, "Clearly these are old and personal photos that were not meant for the public. It's a shame someone decided to leak them for obvious personal gain."

Kanye West

In 2010, <a href="http://www.huffingtonpost.com/2010/10/14/kanye-west-nude-photos-be_n_763426.html" target="_hplink">Kanye West snapped pictures of his genitals and sent them to multiple women</a> who then shopped the photos around to various media outlets. In his song "Runway," West mentioned the incident: "She find pictures in my email/I sent this girl a picture of my d***."

Kristen Stewart

<a href="http://www.huffingtonpost.com/2012/07/25/kristen-stewart-affair-reactions_n_1703777.html" target="_blank">Twihards worldwide were in agony last summer</a> when news of Stewart's affair with her "Snow White and The Huntsman" director Rupert Sanders surfaced. Not only did she betray her longtime boyfriend, co-star and all around heartthrob Robert Pattinson, their fling also <a href="http://www.huffingtonpost.com/2012/09/19/liberty-ross-holds-hands-mystery-man_n_1896576.html" target="_blank">broke up Sanders' marriage</a>.

John Travolta

Trouble keeps on knockin': In May of last year, TMZ reported that John Travolta was <a href="http://www.tmz.com/2012/05/07/john-travolta-sued-masseur-sexual-assault-lawsuit/" target="_blank">being sued by a masseur</a> who claimed the actor tried to have sex with him during a session. A month later, the "Pulp Fiction" star's long-time assistant came forward with claims that Travolta is not only gay, <a href="http://www.huffingtonpost.com/2012/06/07/john-travolta-gay-relationship-doug-gotterba_n_1578178.html" target="_blank">but was also in a relationship with another man for six years</a>. In November, Travolta's longtime friend Kristie Alley came to the actor's defense and said <a href="http://www.huffingtonpost.com/2012/11/07/john-travolta-gay-rumors-kirstie-alley-knows-travolta-is-not-gay_n_2087896.html" target="_blank">she knows with all her heart he is not gay.</a>

Blake Lively

In 2011, photos of a <a href="http://egotastic.com/2011/05/breaking-news-purported-blake-lively-topless-pictures-fly-across-the-net/" target="_hplink">woman resembling Blake Lively surfaced online. </a> The batch of self-taken photos show multiple shots of the woman's cleavage and some full-body nudes as well. Though it certainly looks like her (same tattoo and all), <a href="http://www.huffingtonpost.com/2011/06/01/blake-lively-nude-pics-ar_n_869590.html" target="_hplink">Lively's reps claim the photos are fake</a>.

Minka Kelly

The "Friday Night Lights" star allegedly has a sex tape out there. TMZ reported in July that the <a href="http://www.tmz.com/2012/07/23/minka-kelly-sex-tape/" target="_blank">30-minutes long tape might feature an underage Kelly with an ex-boyfriend</a>, but either way no one has seen or heard of it since.

Vanessa Hudgens

In 2007, then-Disney darling and "High School Musical" star Vanessa Hudgens had nude photos leaked online. The actress, who was 18 at the time, <a href="http://today.msnbc.msn.com/id/20631297/ns/today-entertainment/t/vanessa-hudgens-apologizes-nude-photo/" target="_hplink">released an apology to fans</a> saying "I am embarrassed over this situation and regret having ever taken these photos." Just last month, the actress spoke about the incident again and said the leaked photos were <a href="http://www.huffingtonpost.com/2013/02/21/vanessa-hudgens-nude-photos-worst-moment_n_2735668.html" target="_blank">"by far the worst moment of my career."</a>

Ke$ha

In 2010, a topless photo of the singer, who describes herself as a "hot hobo," hit the Internet. The photo showed Ke$ha topless with an arrow pointing at her chest along with a sexually explicit description. Later, two more photos leaked that showed the <a href="http://egotastic.com/entertainment/celebrities/kesha/viewer-discretion-advised-purported-kesha-muff-diving-photos-cause-internet-unsensation-006706/" target="_hplink">singer engaging in sexual acts</a>.

Colin Farrell

In 2006, <a href="http://articles.latimes.com/2006/jan/11/entertainment/et-sextape11" target="_blank">a sex tape showing the actor and then-girlfriend, Playmate Nicole Narain, surfaced</a>. It was shot two years prior, and though Farrell tried his best to keep in under wraps (including a restraining order blocking the release of the video), some of it leaked online. The website that showed the sexy scenes was effectively shut down, and Farrell's rep released a statement saying he "will take legal action against anyone who tries to distribute this tape."

Scarlett Johansson

Scarlett Johansson's nude photos leaked in 2011 after they were hacked from her personal email account. The photos were meant for then-husband Ryan Reynolds, but ended up online for all to see. When asked about the photos in an <a href="http://nymag.com/daily/fashion/2012/04/johansson-discusses-nude-photo-scandal-in-vogue.html" target="_hplink">interview with Vogue, the actress said: </a> "I don't want to be a victim and say, 'Oh, well' and just hide my head in shame. Somebody stole something from me ... It's sick."

Lady Gaga

Just this summer, Gaga posted a nude photo of herself to her website LittleMonsters.com, <a href="http://www.huffingtonpost.com/2012/07/27/lady-gaga-posts-nude-photo-herself_n_1709895.html" target="_blank">where she's seen covering up her private parts</a>. The year before, other nude photos of the singer leaked online. In them she is seen nude and engaging in bondage, but they didn't cause a real stir... <a href="http://www.celebdirtylaundry.com/2011/lady-gaga-nude-photos-leaked-nsfw/" target="_blank">maybe because they look too artsy to be real.</a>

Paris Hilton

In 2005, <a href="http://www.engadget.com/2005/02/20/paris-hiltons-hacked-sidekick-releases-unedited-tell-all/" target="_hplink">Hilton's phone was hacked and dozens of nude photos</a> of the socialite hit the web. Some of the photos featured Paris and a female friend kissing and getting cozy. <a href="http://www.andpop.com/2005/02/20/update-paris-hiltons-phonebook-nude-pics-leaked-to-web/" target="_hplink">Hilton's contact list was also leaked,</a> which had emails and phone numbers of numerous celebrities.

Christina Hendricks

In March 2012, photos of what appeared to be a topless Christina Hendricks leaked online. <a href="http://www.tmz.com/2012/03/04/christina-hendricks-nude-naked-photos/#.T1TCMtFWqW4" target="_hplink">A rep for the actress denied</a> that the breast-baring photos were stolen from her phone, claiming that the exposed chest belonged to another woman.

Olivia Munn

Nude photos of Olivia Munn hit the Internet in March 2012, but the actress <a href="http://www.huffingtonpost.com/2012/03/05/olivia-munn-fake-nude-photos_n_1320771.html" target="_hplink">immediately denied their veracity</a>. The photos include a midriff-baring Munn, a lingerie shot and finally a fully nude photo that does not picture Munn's face -- raising the possibility that the subject is not Munn but a woman who has a similar body type.

Justin Timberlake

In 2011, Mila Kunis' phone was hacked and some compromising photos leaked, which people at the time attributed to Justin Timberlake (the two were co-stars on "Friends with Benefits" that year). TMZ reported that in one photo, <a href="http://www.tmz.com/2011/09/14/mila-kunis-pictures-leaked-hacker-ring-justin-timberlake-seductive-pink-panties-on-head-cell-phone-texts-exchanged/" target="_blank">JT was lying shirtless in bed</a>. In another, he was jokingly sporting a pair of pink panties over his head. A third photo of exposed male genitalia was then automatically assumed to be JT's, <a href="http://www.people.com/people/article/0,,20529506,00.html" target="_blank">but he and Kunis denied it</a>.

Kim Kardashian

Kim's sex tape with ex-boyfriend Ray J is well known, but is not the least of the reality star's salacious scandals. In April 2012, a photo of a woman frying eggs in the buff surfaced online, and <a href="http://www.huffingtonpost.com/2012/04/27/kim-kardashian-denies-naked-kitchen-photo-not-me_n_1458758.html" target="_hplink">while the woman did bare a striking resemblance to Kim, her reps denied it was her.</a> More recently, it was believed that Kim's boyfriend, Kanye West, <a href="http://www.tmz.com/2012/06/13/kim-kardashian-naked-picture-kanye-west-twitter-porn-star-wanksterwednesday/" target="_hplink">tweeted a naked photo of his love, but it turned out to be a hoax.</a> The photo in question was actually of porn star Amia Miley, who had tweeted the photo to her own account.

Pete Wentz

In 2006, photos of Fall Out Boy bassist Pete Wentz's genitals showed up on the Internet. The photos were orginally posted on the gossip site Oh No They Didn't and the incident <a href="http://www.urbandictionary.com/define.php?term=peengate" target="_hplink">became known as "Peengate '06" by members. </a> Wentz later admitted that he handled the leaked photos "pretty terribly for the first 48 hours," and went so far as to quit his band temporarily. <a href="http://www.celebuzz.com/photos/celebrity-nude-photo-scandals/6th-annual-kidstock-music-and-arts-festival-arrivals/" target="_hplink">"But then then what I realized is that it's not the worst thing on the planet that's ever gonna happen," he said.</a>

Brad Pitt

While on vacation in St. Barts with then-girlfriend Gwyneth Paltrow in 1995, Brad Pitt was photographed sunbathing nude, and the illegally procured photos were sold and published by Playgirl. Pitt sued the magazine and <a href="http://www.nytimes.com/1997/07/15/us/brad-pitt-sues-playgirl-over-nude-photographs.html" target="_hplink">a judge ordered Playgirl not to deliver any more copies of its 1997 August edition, which contained the photos.</a>

Kat Dennings

In 2010, "2 Broke Girls" star Kat Dennings had <a href="http://yeeeah.com/2010/11/05/kat-dennings-leaked-nude-cell-phone-pics/" target="_hplink">topless photos hit the web. </a> The photos showed the actress in her bedroom, lifting up her top to expose her breasts to her webcam.

Jessica Alba

In 2010, Jessica Alba fell victim to a hacker who leaked <a href="http://www.wwtdd.com/2010/11/jessica-alba-has-naked-cell-phone-pictures/" target="_hplink">her topless photos.</a> She was at the time pregnant with daughter Honor. The photos showed her growing belly and one shot showed the star pulling down her shirt to expose her breast.

Christina Aguilera

In 2010, semi-nude photos of the singer leaked online. The photos showed Aguilera nearly naked and a strategically place scar made it clear it was truly her. Reps for Aguilera claimed <a href="http://www.marieclaire.co.uk/news/celebrity/509663/christina-aguilera-hit-by-nude-photo-scandal.html" target="_hplink">the photos were taken from her stylist's computer and leaked by a hacker.</a>

Prince Harry

A royal scandal! Last summer, nude photos of the prince partying in Vegas leaked and certainly made the queen blush. Harry was seen buck naked, <a href="http://www.tmz.com/2012/08/21/prince-harry-naked-photos-nude-vegas-hotel-party/" target="_blank">covering his crotch area,</a> with a seemingly naked girl behind him. A few months later, he spoke publicly about the incident and said he had <a href="http://www.cnn.com/2013/01/22/world/europe/harry-vegas-media" target="_blank">"probably let myself down, I let my family down, I let other people down."</a>

Vanessa Williams

In 1984, nude photos of Vanessa Williams cost her the crown as the first black Miss America winner. A series of nude photographs of the beauty posing with another young woman were published in Penthouse and raked in $24 million for the magazine. Williams was effectively pressured by pageant officials to resign. <a href="http://www.people.com/people/archive/article/0,,20197080,00.html" target="_hplink">She lost her title and at least $2 million worth of endorsement contracts.</a> In her 2009 book, "You Have No Idea," Williams addressed the scandal and wrote that at the time <a href="http://uinterview.com/news/exclusive-vanessa-williams-worried-what-parents-would-think-during-penthouse-scandal-4617" target="_hplink">she worried most about how her parents would react. </a>

Kristin Davis

In 2008 alleged nude photos of "Sex and the City" star Kristin Davis leaked online. The photos were taken in 1992 by her then-boyfriend Eric Stapelman, and it was rumored that the pictures were stills from a sex tape. <a href="http://www.tmz.com/2008/03/18/sex-in-kristins-city/" target="_hplink">Reps for the actress denied the photos were of Davis, telling TMZ</a>, "This is not a photo of Kristin Davis. There is no sex tape."

Amber Rose

In 2011 nude photos of Amber Rose leaked online. <a href="http://articles.nydailynews.com/2011-07-01/gossip/29744667_1_nicki-minaj-amber-rose-x-rated-photos" target="_hplink">According to the NYDN,</a> Amber was distraught after a trusted friend leaked the explicit pics which showed her completely nude.

Ashley Greene

In 2009, topless photos of "Twilight" star Ashley Greene hit the Internet. Greene <a href="http://omgcelebritynews.com/2009-08-11-ashley-greene-nude-photos-controversy" target="_hplink">immediately contacted her attorney,</a> who then threatened to sue anyone who unlawfully posts the pictures. "The photos in question, which appear to be of our client, are illegal and are being unlawfully displayed. Our client intends to take legal action," her lawyer told reporters.

Rob Lowe

In 1989, then-22-year-old Rob Lowe was caught in a sex tape scandal when it was discovered one of the girls on it was underage. In an <a href="http://www.dailymail.co.uk/tvshowbiz/article-1381935/Rob-Lowe-My-sex-tape-scandal-greatest-thing-happened-me.html#ixzz1xnsZFkZY" target="_hplink">interview with Oprah in 2011, Lowe spoke about the tape,</a> saying "Let me just say this -- sometimes being a trailblazer is highly overrated."He also went on to insist that he was absolutely sure the underage girl was 21 at the time.

LeAnne Rimes

The country star and hubby Eddie Cibrian began dating in 2009 while they were both married to other people. Cibrian's now ex-wife, the Real Housewife Brandi Glanville, <a href="http://www.eonline.com/news/380618/brandi-glanville-calls-leann-rimes-insane-and-eddie-cibrian-s-sugar-mama-singer-fires-back-on-twitter" target="_blank">has called war on the couple</a> and frequently makes headlines with vicious comments about the two.

Jesse James

In 2010, America's sweetheart Sandra Bullock filed for a divorce from her husband of five years, Jesse James, after she (and the world) found out he cheated on her. He then got engaged to tattoo artist Kat Von D, who broke off their engagement in 2011 after he admitted to cheating on her with multiple women. James got married last weekend for the fourth time.

Tiger Woods

In 2009, the sports world and entertainment alike were shaken with <a href="http://www.time.com/time/photogallery/0,29307,1966486,00.html" target="_blank">reports of the famed golfer's infidelity</a>. As the women who Woods slept with piled up, his wife Elin Nordegren left him. He took a voluntary break from golfing, lost multiple endorsement deals, treated himself at a clinic for sex addiction, and <a href="http://www.examiner.com/article/lindsey-vonn-sexy-enough-to-inspire-tiger-woods-to-peak-performance-golf" target="_blank">miraculously bounced back</a>.

Hulk Hogan

In 2012, the former wrestler said he was illegally taped having sex with the ex-wife of his friend, DJ Bubba "The Love Sponge" Clem, six years prior. The video of Hogan and Heather Clem was leaked to Gawker, which posted portions of it online. <a href="http://www.dailymail.co.uk/news/article-2218282/Hulk-Hogan-sues-Gawker-100million-sex-tape.html" target="_blank">Hogan sued the site for $100 million</a>.