Today is Star Wars Day, a festive occasion where George Lucas fans everywhere share their favorite pun, "May the Fourth be with you." While trilogy devotees are dressing up as Sith Lords and C-3POs, the more, erm, modest followers might be looking for a low-key way to celebrate the holiday. Los Angeles gallery Coagula Curatorial (led by HuffPost blogger Mat Gleason), has an appropriate event in mind.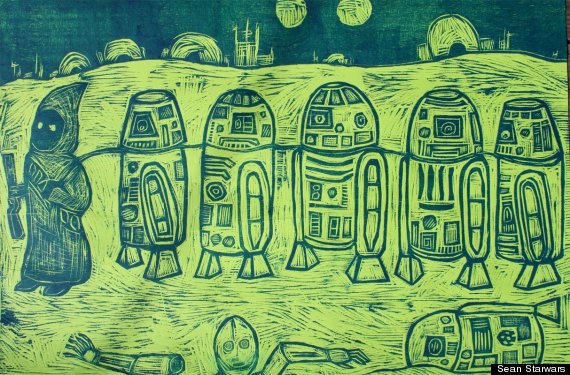 Artist Sean Starwars is presenting his work at Coagula on May 4, showcasing a series of woodcut fan art in an exhibit titled... "May the Fourth Be With You," of course. Starwars is not Sean's given last name, but we imagine the chosen moniker motivates the woodcut master to honor Leia, Hans and Chewie that much more.
From R2-D2 to All Terrain Armored Transport walkers, the pop art exhibit is a colorful romp through Lucas's franchise. The gallery will be celebrating Star Wars Day all throughout Saturday, with kid-friendly puppet shows and T-shirt printing during the day and a more mature audience-oriented comedy show -- Star Wars themed! -- at night. Scroll the slideshow below for a peek:
May The Fourth Be With You
For more Star Wars celebration ideas, check out the video below:
SUBSCRIBE AND FOLLOW
Get top stories and blog posts emailed to me each day. Newsletters may offer personalized content or advertisements.
Learn more