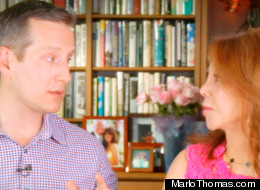 If you're thinking of quitting smoking, addiction specialist and CEO of Change Inc. Brad Lamm had some great tips when he stopped by this episode of Mondays With Marlo.
First, set a date that you'll quit and stick to it. Second, tell the people around you so that you're held accountable. Third, use nicotine therapy like a patch in the beginning to help you get past the cravings. Finally, if the reason you haven't stopped smoking yet is connected to food, see a nutritionist and set up a food plan to assuage your fears of gaining weight.
Watch the full interview here.
To learn more about addiction, see Brad's surprising facts:

Brad Lamm's Surprising Facts About Addiction
Depressants, opioids and antidepressants are responsible for more overdose deaths (45%) than cocaine, heroin, methamphetamine and amphetamines (39%) combined. (drugfreeworld.org)

Narcotic pain relievers now cause or contribute to nearly 3 out of 4 prescription drug overdoses and about 15,500 deaths in the US each year. (CDC.gov)

Cigarette smoke contains over 4,800 chemicals, 69 of which are known to cause cancer. (CDC.gov)

Eating disorders (which includes everything from anorexia to bulimia to binge eating) have the highest mortality rate of any mental disorder. (ANAD.org)

More than half of the alcohol consumed by adults in the United States is in the form of binge drinking, which is defined as when a man consumes 5 or more drinks, and when women consumes 4 or more drinks, in about 2 hours. (CDC.gov)

57.4%: the percentage of Americans ages 18-44 that are overweight and obese (combined). (CDC.gov)

Marijuana use has increased since 2007. In 2011, there were 18.1 million current (past-month) users—about 7.0 percent of people aged 12 or older—up from 14.4 million (5.8 percent) in 2007. (drugabuse.gov)

Treatment for prescription painkiller abuse has skyrocketed 430% in the past decade. (SAMHSA)

Smoking-related diseases cause an estimated 440,000 American deaths each year. (interventionspecialists.org)

Binge drinking is more common among those with household incomes of $75,000 or more than among those with lower incomes. (CDC.gov)

Only 1 in 10 men and women with eating disorders receive treatment. (ANAD.org)

More than half of new illicit drug users begin with marijuana. Next most common are prescription pain relievers, followed by inhalants (which is most common among younger teens). (drugabuse.gov)

Women account for 39 percent of all smoking deaths in the US. (interventionspecialists.org)

Excessive alcohol consumption is responsible for over 79,000 deaths in the US each year. (CDC.gov)

One person's obesity can significantly increase the chance that his or her friends, siblings, and spouse will also become heavy. (New England Journal of Medicine)

Smoking costs the United States over $150 billion annually in health care costs. (interventionspecialists.org)

In 2011, 33% of 8th graders and 70% of 12th graders had tried alcohol, and 13% of 8th graders and 40% of 12th graders drank during the past month. (CDC.gov)
Add Marlo On Facebook:
Follow Marlo on Twitter:

Weekly Newsletter

Sign up to receive my email newsletter each week - It will keep you up-to-date on upcoming articles, Mondays with Marlo guests, videos, and more!

Sign up here