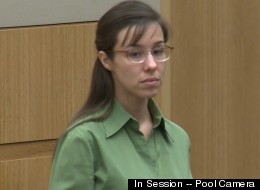 PHOENIX, Ariz. -- The Jodi Arias jury returns to court today for Day 3 of deliberations in her capital murder trial.
The eight-man, four-woman panel, concluded their first full day of deliberations at about 4:30 p.m. Monday.
Arias is accused of stabbing 30-year-old Travis Alexander nearly 30 times, shooting him in the head and cutting his throat from ear to ear in his Mesa home on June 4 , 2008.
The jury heard four months of testimony and closing arguments in the case. Deliberations began Friday and will continue weekdays, from noon to 7:30 p.m. Eastern time. There will be no weekend deliberations.
Deliberations resume at 1 p.m. Eastern time this morning. No reason has been given for the late start.
Arias, 32, faces the possibility of the death penalty if convicted.
TUESDAY'S LIVE BLOG:
Outside the courthouse, Cathy Brown of Phoenix told HuffPost's David Lohr: "I'm here to support families on both sides. I went into the courtroom twice to listen to testimony. God bless those jurors cause that went on for a long, long time."
"I think they'll have a verdict today. Honestly I think she'll get life without parole."
Earlier in the trial, Brown caused a bit of a dustup in the courtroom when prosecutor Juan Martinez signed her cane and posed for a picture. The defense thought that Martinez might have improperly influenced the jury. The judge ruled otherwise.