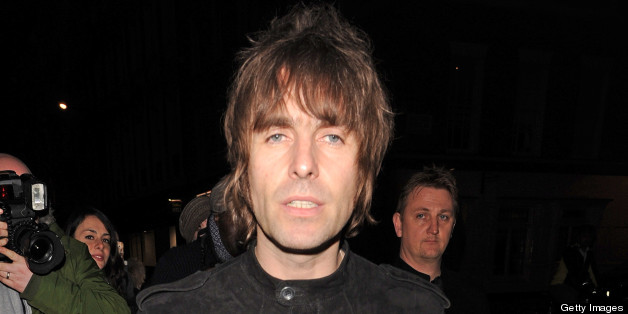 Who knew M&M's were so threatening? Certainly not Liam Gallagher, who recently had a near-death experience after chowing down on a blue version of the peanut-filled chocolate.
The former Oasis frontman was staying in a hotel while on vacation, found himself hungry and, naturally, indulged in a pack of M&M's from his room's minibar. He revealed to The Sun that he went into anaphylactic shock and was quickly taken to a nearby hospital, where he was diagnosed with a peanut allergy.
Gallagher, 40, said his allergy now causes him to carry a syringe in case an emergency arises.
"I've done some stuff over the years but never, never did I think a f—ing blue M&M would be the thing that could have killed me," Gallagher explained to The Sun, presumably referring to his well-known former cocaine use.
"I was in a hotel on holiday and got in about the minibar. I was bored and hungry, so it's what you do, man. I've always liked M&M's, so I got into them. I had a blue one. My mouth started to swell up and I could feel it tightening my throat, man. I had to go to the docs and get it checked out straight away. It happened again a couple of weeks after, and now I've got to carry a syringe about with me in case of emergencies. Proper Pete Doherty gear."
Gallagher currently serves as the lead singer of Beady Eye, a band that formed after Noel Gallagher left Oasis in 2009 upon citing professional incompatibility with his brother. Original Oasis guitarists Gem Archer and Andy Bell are part of the new rock outfit, as are Chris Shamrock, who served as the drummer on Oasis' 2008-09 world tour, and Jay Mehler, who joined in 2013 after playing guitar for Kasabian. Beady Eye's second album, "BE," is due June 10. The effort's opening track, "Flick of the Finger," had already been released as a single, with "Second Bite of the Apple" serving as the first official release from the album. Listen to it below:
Liam Gallagher Through The Years
SUBSCRIBE AND FOLLOW
Get top stories and blog posts emailed to me each day. Newsletters may offer personalized content or advertisements.
Learn more