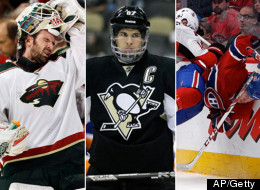 The quest for the Stanley Cup is in full swing and there have already been some last-second goals, tremendous goalkeeping and even a massive line brawl.
To top that off, there have already been eight games decided in overtime.
While there's still a long way until we reach the Stanley Cup Final, patterns, trends and playoff beards have begun to emerge. Here are 10 early impressions on the 16 playoff teams and the eight first-round series.
In addition to Lars Eller's injury in Game 1, both Montreal and Ottawa combined for 236 penalty minutes in Game 3 thanks in part to a massive line brawl. Nine players were given game misconducts as Ottawa went on to win 6-1.

The top-seeded Blackhawks needed overtime to close out wins in Game 1 and Game 2 over an eighth-seeded team -- with a back-up goaltender. Chicago opened the postseason 1 for 9 on the power play, yet still ranked third in the postseason with 37.3 shots per game.

Sidney Crosby returned for Game 2 against the Islanders after missing a month with a broken jaw. In just two games, he has already tallied two goals (both in Game 2) and three assists (all in Game 3).

New York failed to convert any chances on the power-play in the first two games. The Rangers scored one power-play goal in Game 3, but they had five other opportunities with a man advantage.

Suter led the NHL in average time on ice per game this season, so it's no surprise that the Wild will continue that trend in the postseason. Suter logged 41:08 minutes of ice time in Game 1 -- almost seven minutes more than any other Minnesota skater -- and has logged 98:07 minutes total throughout three games.

The 2012 Conn Smythe winner has struggled with consistency all season. Quick's terrible turnover behind the net in overtime led to the Blues' game-winner in Game 1. In Game 2, he allowed two goals, which was enough for St. Louis to pull out the win. After shutting St. Louis out in the third game, he allowed three goals in Game 4 but they came before the third period as the Kings tied the series at two.

The Red Wings' defensive breakdowns have allowed three third period goals each in Games 2 and 3. Luckily for the Red Wings, they were able to tie the series in an overtime win in Game 4.

Selanne, who has played in Anaheim for 15 seasons, has tallied a goal and two assists through the first three playoff games. He leads the franchise in all-time postseason scoring with 61 points in 78 career games.

Despite leading the postseason with 13 goals allowed, John Tavares and the Isles have stepped up to prove that they can match Pittsburgh's run-and-gun pace as an eighth-seed, netting eight goals against Marc-Andre Fleury throughout three games.

Goaltender Niklas Backstrom is tied for the NHL lead with 24 wins and holds a franchise-record of eight straight victories in March. None of that mattered once the goalie injured himself moments before Game 1. In addition, Jason Pominville has yet to return due to a prior injury and forward Mike Rupp even lost a skate blade in the middle of a scoring chance.