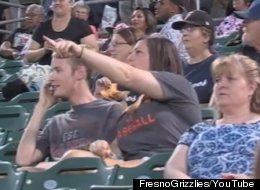 When the kiss cam zooms in on you at a sporting event, you give it what it wants: a kiss. If you don't, you'll likely get booed by the entire stadium. (Remember last year when the Obamas got booed at a basketball game for refusing to pucker up the first time the camera came around? Yeah, the kiss cam doesn't mess around.)
The guy in this video -- filmed by the Triple-A Fresno Grizzlies at a recent game against the Colorado Springs Sky Sox -- doesn't know the first thing about the kiss cam. When the camera zooms in on him and his girlfriend -- twice -- he's too distracted by his cell phone to give his lady some love. What happens when the camera returns to the couple for the third time is what makes this video truly unmissable. Watch it above.
But is it real? The official word from the Fresno Grizzlies is that the video is "not shenanigans," though as many YouTube commenters have pointed out, the whole thing almost seems too good to be true. Real or scripted, we can't stop watching it.
15 Hilarious Sports Fails
Double score.

That's sure to hurt his pride.

He tried.

Or not. I'll just do an awkward fist pump into the air instead.

It's like middle school all over again.

He can skate fast and body-check like nobody's business, but drinking out of a bottle is hard.

At least I have another try.

Things are always going right over his head, and this soccer ball was no different.

We missed but with the flick of the wrist we still looked cool.

What's everyone looking at? Oh.

I felt like I was flying, but no one was there to be the wind beneath my wings.

Show off with my kick spin and...fail.

He caught him!

He's safe...and walking on air.

Aww man, I really thought I had it this time.
Keep in touch! Check out HuffPost Divorce on Facebook and Twitter.