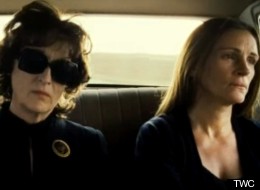 Proof it's never too early for Oscar season: This week, trailers for "Captain Phillips," "Gravity" and, now, "August: Osage County" were released, trumpeting what look like awards-worthy performances and Best Picture bona fides.
It's the trailer for "August: Osage County," however, that should have Oscar watchers standing at attention: Based on the Pulitzer Prize-winning play by Tracy Letts, the screen adaptation stars past Oscar winners Meryl Streep, Julia Roberts and Chris Cooper, plus Ewan McGregor, Benedict Cumberbatch, Margo Martindale, Abigail Breslin, Juliette Lewis, Dermot Mulroney and Sam Shepard. Oscar king Harvey Weinstein produced the film alongside George Clooney.
"Life is very long," Shepard, as Weston family patriarch Beverly, says at the beginning of the first "August: Osage County" trailer. Not for Bev, as it turns out: his mysterious death forces the fractured Weston family to reunite, bringing old rivalries back to the forefront. Streep plays Bev's wife, Violet, a role that could put the three-time Oscar winner on track for a potential fourth trophy; Roberts is Barbara, the Weston's oldest daughter, and her knock-down, drag-out scenes opposite Streep already seem to crackle in the film's trailer. (For a spoiler-y look at the play's content and what kind of roles each of the talented cast members are playing, check out the detailed Wikipedia page.)
John Wells, of "E.R." fame, directed "August: Osage County," with help from acclaimed below-the-line contributors composer Carter Burwell ("Fargo"), editor Stephen Mirrione (an Oscar winner for "Traffic") and cinematographer Adriano Goldman ("Jane Eyre"). The film is due out in theaters on Nov. 8. Watch the first trailer, via "Good Morning America," above.
in Donna Karan Atelier.

in Rafael Cennamo.

in a Tony Ward Couture dress, Norman Silverman earrings, Le Vian and De Marco rings and a Judith Leiber bag.

in a Romona Keveza dress, Jimmy Choo shoes, Swarovski clutch and Martin Katz jewelry.

in a Tony Ward dress and Simon G jewelry.

It's biggest fashion runway in the world - the Oscar red carpet. And on Sunday night, the stars did not disappoint. Sandra Bullock went backless in black and white. Gwyneth Paltrow made an elegant entry in an off-white Tom Ford ensemble with cape. Angelina Jolie rocked the carpet - fearlessly posing in a thigh-high cut Versace velvet dress. Viola Davis made her entrance in an emerald green Vera Wang, while Glenn Close chose a similar hue by designer Zac Posen.