Workers at a Detroit McDonald's walked off the job early Friday morning, part of a wave of fast food industry strikes that have recently swept across cities around the nation.
Campaign organizers are expecting hundreds of workers to strike in Metro Detroit throughout the day at national chains like McDonald's, Popeyes, Wendy's, Little Caesars and Subway. Striking employees are demanding $15 an hour -- far more than the state's $7.40 an hour minimum wage many fast food industry workers are paid -- and the right to form a union without retaliation.
Though fast food work generally pays much less than needed to support a family, with many employees earning so little they are officially poor, in the Detroit area such jobs now outnumber those in the auto industry by nearly two-to-one, according to organizers.
About 20 employees began striking at 6 a.m. at a McDonald's located at 10400 Gratiot Ave. in Detroit, according to a release from D15, the campaign helping to coordinate the Detroit actions. The operation's management brought in replacement workers who also walked off the job, according to social media reports. Seven employees of a Long John Silvers at 3755 E. 8 Mile also left their posts this morning in Warren, Mich., shutting down that operation as well, according to the D15.
McDonald's worker Keith Bullard, who has started an online petition for support through the website MoveOn, explained his reasons for participating in the strike in an email sent to The Huffington Post
"This morning, I walked off my job at McDonald's. I'm a 29-year-old husband and a father of two. My wife can't work because of health problems—and the $7.50 an hour I make at McDonald's just isn't enough to cover my family's basic needs," he said.
"Can anybody really feed children and take care of a family on the current minimum wage of $7.40 an hour?" Pastor Charles Williams II of Historic King Solomon Baptist Church, a leader involved with the campaign, asked in a statement emailed to The Huffington Post. "If we truly want to stimulate the economy then we must stimulate the wages of those who collectively have the buying power to strengthen the economy. It's simple. I support the workers today because, raising their wage, raises our economy."

Fast-food jobs are among the most common jobs in the U.S., as well as the lowest-paying. According to the Bureau of Labor Statistics, in 2010 there were 2.9 million "food prep and serving workers," a category covering fast food employees, who were earning an average of just $19,100, or $9.18 per hour.
Detroit is the fourth city to see fast food strikes in recent weeks, after New York City, Chicago, and St. Louis, where workers are all demanding living wages.
Although the workers and advocates in each city are affiliated with different organizations, they've communicated with one another and have even travelled on charter buses to one another's cities to show support during the strikes.
This recent wave of strikes can be traced back to November, when about 200 fast-food workers in New York walked out of their restaurants, demanding 15 dollars an hour and the right to form a union. In April, around twice as many New York fast-food workers participated in a second strike, and that action, in turn, inspired both fast-food and retail workers to stage a similar demonstration in Chicago.
On Wednesday, dozens of fast-food workers in St. Louis followed suit. Among them was Jamanda Gordon, a college student who said half her paycheck goes to pay off the loan on her car, which she needs to travel between home, school, and work. She said she was tired of working hard just to stay out of debt. "I'm over it," she said.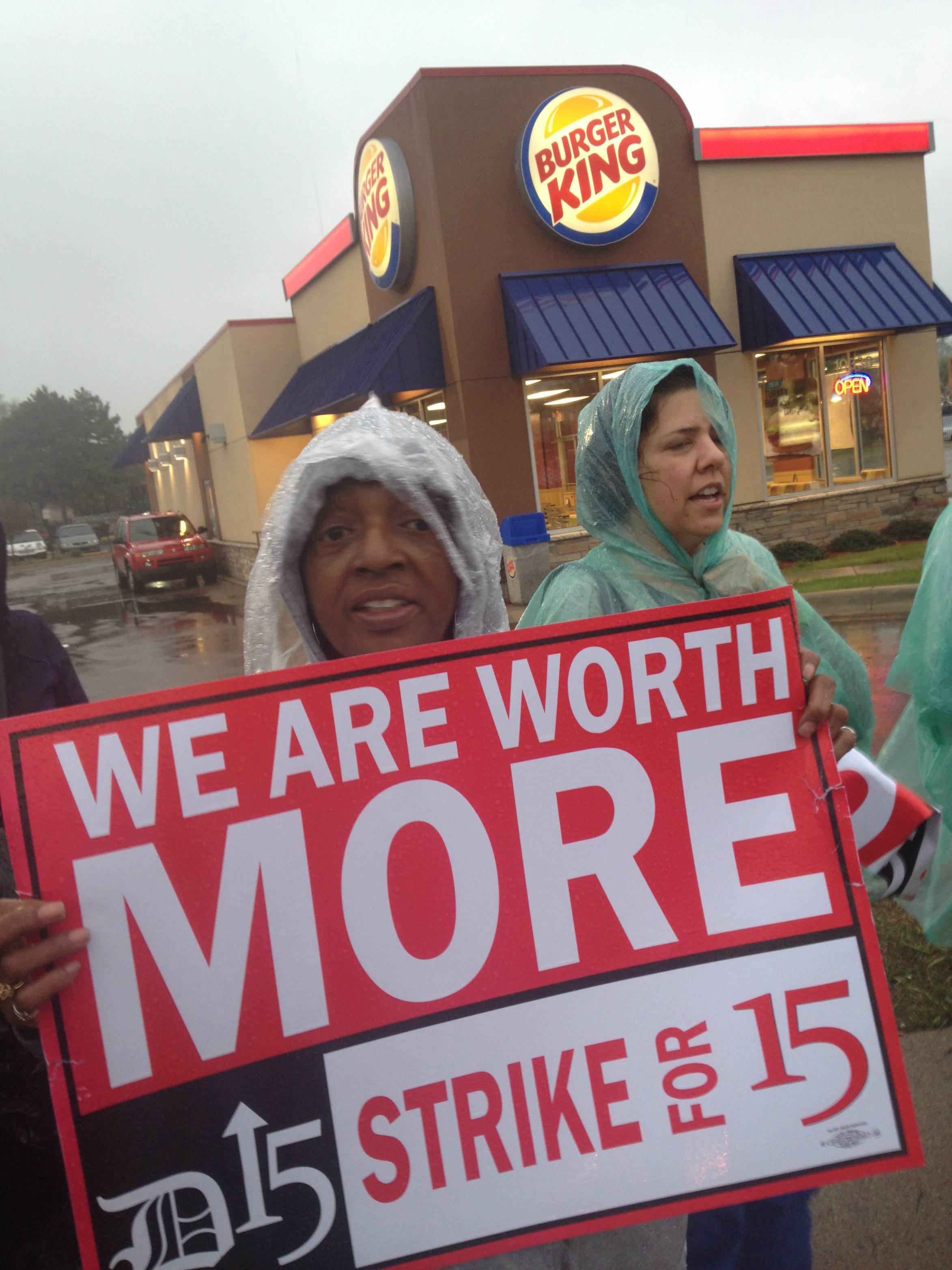 Also on HuffPost:
Loading Slideshow
McDonald's Grew During The Recession

McDonald's had <a href="http://www.slate.com/articles/business/moneybox/2009/08/who_won_the_recession.html" target="_hplink">higher sales growth in 2008</a> than in 2006 or 2007, opening nearly 600 stores that year, according to Slate. The chain was able to take advantage of Americans' recession tastes: Cheap, convenient food.

They Handle Food That Isn't Really Food

One <a href="http://www.reddit.com/r/AskReddit/comments/w2sv3/fast_food_workers_of_reddit_what_is_the_one_menu/" target="_hplink">Reddit user claiming to be an ex-McDonald's worker</a> said he once left a bag of chicken nuggets out on the counter for too long and "they melted. Into a pool of liquid." That didn't stop him from loving the nuggets, "still delicious," he wrote.

Fast Food Companies See Huge Profits On The Backs Of Low-Wage Workers

More than <a href="http://www.nelp.org/page/-/Press Releases/2012/PR_MinWageCorpProfits.pdf?nocdn=1" target="_hplink">60 percent of low-wage workers</a> are employed by big corporations, according to a July analysis by the National Employment Law Project. And more than 90 percent of those companies were profitable last year.

The Average Pay For A Fast Food Worker In New York City Is $9 Per Hour

Fast food workers in New York City make an <a href="http://blogs.villagevoice.com/forkintheroad/2012/11/fast_food_forward_strike_nyc.php" target="_hplink">average of $9 per hour</a>, according to the Village Voice. That comes to about $18,500 per year for full-time workers.

Fast Food Workers Are Unlikely To Get Paid Sick Days

For 40 percent of private sector workers, <a href="http://articles.baltimoresun.com/2012-11-28/news/bs-ed-sick-leave-20121128_1_sick-days-care-workers-service-workers" target="_hplink">taking a sick day</a> and still getting paid isn't an option, according to the Baltimore Sun. Fast food workers are especially likely to be part of that 40 percent.

The Boss Can Threaten To Take Workers' Health Care Away

Many fast food workers saw their health benefits put at risk this year, if they even had them at all. <a href="http://www.huffingtonpost.com/2012/11/09/papa-johns-obamacare-john-schnatter_n_2104202.html" target="_hplink">Papa John's CEO John Schnatter</a> said he would likely reduce some of his workers hours so that he wouldn't have to cover them in response to Obamacare. Jimmy John's founder, Jimmy John Liautaud told Fox News in October that <a href="http://www.foxnews.com/on-air/your-world-cavuto/2012/10/16/jimmy-johns-founder-business-owners-unsure-future" target="_hplink">he would "have to" cut workers' hours</a> so that he wasn't forced to cover them under Obamacare.

The Average Hourly Pay At Many Fast Food Eateries Is Less Than $8 An Hour

The average hourly pay at McDonald's, Wendy's, Burger King and Taco Bell is less than $8 an hour, according to <a href="http://www.cnbc.com/id/50015355" target="_hplink">salary data cited by CNBC</a>.

The Median Age Of A Fast Food Worker Is 28

As more workers fight for limited jobs, many older employees are gravitating towards the fast food industry. The median age of a fast <a href="http://www.theatlantic.com/business/archive/2012/11/mcjobs-should-pay-too-its-time-for-fast-food-workers-to-get-living-wages/265714/" target="_hplink">food worker is 28</a>, according to Bureau of Labor Statistics data cited by the Atlantic. For women, who make up two-thirds of the industry's employees, that age is 32.

Labor Leaders Rarely Try To Unionize Fast Food Workers

Fast food worker's went on strike in late November in New York City, showcasing a rare effort to organize the industry's workers. Labor leaders often don't make an effort to organize these workers because the high turnover makes the challenge daunting.

Fast Food Workers Are The Lowest Paid Workers In NYC

For all their work, fast food workers get very little dough. The lowest paid job category in New York City is "Combined Food Service and Preparation Workers, Including Fast Food," according to Bureau of Labor Department Statistics <a href="http://www.salon.com/2012/11/29/in_rare_strike_nyc_fast_food_workers_walk_out/" target="_hplink">cited by Salon</a>.