Mother's Day only comes around once a year, and it's a time to take a moment to celebrate moms and thank them. It is also, some might argue, a time to get drunk at the bar with the woman who gave birth to you.
While brunch, flowers and a restful morning are more traditional Mother's Day gifts, one bar in Detroit is banking on the fact that all families bond in different ways. Pure Detroit spotted this less-than-classy special for moms and (adult) kids at Honest John's: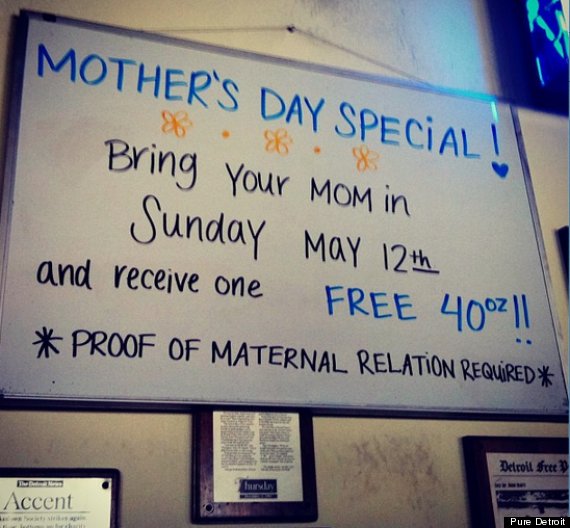 As Sublime might have said, "A 40 oz. to freedom is the only chance I have [to show my mom how much she means to me]."
Would your mom freak out if you presented her with 40 ounces of malt liquor this Sunday ... or would she be happy to have something stiffer than orange juice? And is this better or worse than a free meal at Hooters'?
If you must drink cheap beer this Mother's Day, HuffPost Taste did you the favor of picking the best of the budget-friendly:
Bottom Shelf Beer Taste Test, 2012
Comments: "A little bland, but okay." "Sweet and foamy -- inoffensive." "A really light, easy-to-please flavor." "Musky and heavy." "Highly drinkable."

Comments: "Too bitter, but tolerable." "Standard." "Bready, nice balance. Could easily drink it all night." "Pretty solid beer." "Tastes like nothing, which isn't necessarily a bad thing."

Comments: "Smooth but cheap-tasting." "Plain flavored, nothing special." "Tastes like a frat house." "Tastes metallic, but I can take it." "Boring." "Skunky, not my favorite."

Comments: "Pleasant enough." "Skunky." "Kind of funky, more complex than the others." "Reminds me of college, in a bad way." "Bitter finish and great bubbles, but too hoppy."

Comments: "Nutty." "Bad aftertaste." "Very sweet and honey-like." "Weak!" "Kind of sweet and watered down." "Pleasantly grungy tasting."

Comments: "Tastes the way cheap beer smells." "Bitter and watery." "Neutral taste, slight sweetness, and foamy." "Tastes familiar, like college." "Nice ratio of sweet to bitter." "Eminently offensive." "Like carbonated water, in but in a good way."

Comments: "Soapy." "Not bad hoppiness." "Too sour, no depth of flavor." "It looks like it would taste good, but it doesn't, which is annoying." "No. This tastes like matzoh!"

Comments: "God is disappointed." "Neutral and decently smooth." "Kind of like soda. Really sparkly." "Apple-juicy, kind of flat and wan-tasting." "Disgusting." "Kind of fruity? In a good way. Very effervescent."

Comments: "My pee tastes better than this." "Really bitter." "Pleasant bitterness at first, but bad aftertaste." "Malty, with caramel notes and a slightly sour finish." "Too watery." "A little bitter."

Comments: "Tastes like raspberries." "Weirdly sweet, like drinking corn." "Savory and hoppy, but with a nasty metallic tang." "Tastes like flavored water." "Smells like bread. Do not like."