As Beyoncé continues along her path to world domination, it might feel like everyone loves Mrs. Carter. But it might be time to rethink the diva's universal appeal: Beyoncé has started a "modesty war" on the Lower East Side.
Hyperlocal New York City blog Bowery Boogie discovered that Beyoncé's sexy H&M bikini ad has been censored at a bus stop on the Lower East Side, likely by a member of the neighborhood's devout, conservative Jewish population. Yet they're not the only cultural interest group in the LES, and residents who actually want to see Beyoncé's bootylicious curves have been removing the ad's makeshift covering. According to a tip sent to Bowery Boogie:
There is a billboard of Beyonce at the bus stop at grand and Columbia. – one of the H and M one of her in a bikini. Every day someone tapes a cover over it, now it is opaque sheeting and every day people rip it down. You can see what is left of yesterday as the white covering at the bottom of the ad.
Beyoncé's curves have been censored before; last month, tabloids obscured the singer's faux nipples in photos of her controversial tour costume. And H&M has dealt with similar responses to its ads in the past, most famously when those featuring a sleeveless Gisele Bundchen needed to be digitally altered before running in Dubai in 2011.
Take a look at the neighborhood's cover-up job in the photo below. Do you find Beyoncé's H&M outfits to be too provocative?
PHOTO: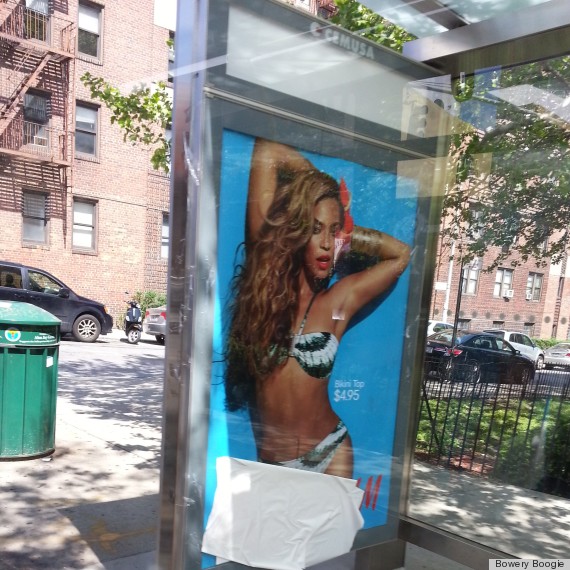 Other ads that sparked controversy:
100 Ads That Got People Talking
Levis.

Saatchi and Saatchi's campaign for The Conservative Party ahead of the 1979 general election.

Durex.

Sisley fashion brand.

Sean John's Unforgivable Woman fragrance.

Linford Christie stars in Kleenex's tissue advert.

Lynx.

BMW.

BaF's anti-domestic violence ad.

Red Tape menswear fashion brand.

Controversial French anti-smoking advert,

MacDonald's.

QSOL service provider.

NSPCC

A German MacDonald's advert.

Heinz.

Cadbury's.

Miquita Oliver in Women's Aid advert.

Advert for Chicolate chocolate substitute.

Skin Burn, anti-smoking ad

Barnardo's.

Tipalet cigarette advert.

Benetton

TG4 television program entitled 'Paisean Faisean'.

Courage beer.

Budweiser.

Barcardi rum.

Amnesty International

Skyy alcoholic drink.

Amnesty International

Amnesty International

Anti binge-drinking advert

Van Heusen

BMW

Pitney-Bowes Postage Meter

Government anti-drug driving advert

Anti-abortion advert

Advert against verbal abuse

Fabrica

Benson & Hedges

American Apparel

Amnesty International

Post-It

An M&C Saatchi advert for St Matthew's in the City in Aukland, New Zealand.

Israel is still angry that the supermodel didn't serve in the army, and they are even more angry that she is in a tourism video for the country.

Wonderbra's infamous advert.
Want more? Be sure to check out HuffPost Style on Twitter, Facebook, Tumblr, Pinterest and Instagram at @HuffPostStyle.
--
Do you have a style story idea or tip? Email us at stylesubmissions@huffingtonpost.com. (PR pitches sent to this address will be ignored.)