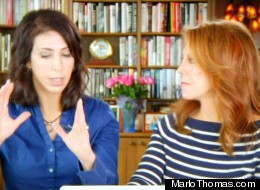 Cars have more options than ever for comfort and safety. Lauren Fix, The Car Coach®, gave us her top picks when she joined me on this episode of Mondays With Marlo.
Heads up displays are becoming more common -- this way, you don't have to look down at your gauges. Lane change departures will make a sound if there's another vehicle in your blind spot as you switch lanes. Lauren's favorite new feature is one that will push you back into your lane if you start to veer off.
Click here for the full interview.
For more tips on all things auto-related, see Lauren Fix's car and driving tips:
Lauren Fix's 10 Favorite Car Tips
Sure, it's got a price sticker on it. But don't forget to research the real cost of owning your vehicle. How many miles per gallon does it get? Will repairs and maintenance be more expensive than another model? How about insurance costs? And when it comes time to trade it in or resell, does one model hold its value longer? Keep these in mind as you compare costs.

If your car manual is buried in your glove compartment, you're missing out on vital information to keep your car running smoothly -- and might be jeopardizing your warranty. Maintenance schedules, what type of gas to use and troubleshooting solutions are all in there. And if your car dealer notices a discrepancy between your manual's instructions and what you've actually been doing -- have you been using regular gas instead of premium? -- your warranty can be voided.

Did you know that you should be replacing your windshield wipers every six months? Most wipers are only made of rubber -- they're exposed to all the elements and break down. Additionally, worn out windshield wipers scratch your windshield, which is much more expensive to replace. Remember, 80 percent of your driving decisions are based on visibility -- if your visibility isn't as good as it can be, you're putting yourself and others in danger.

If you have an older car, it's important to be proactive. Go to a mechanic for a once over, and have him or her go through your car and tell you what's coming. Use a stoplight system with your mechanic: green means it's fine, yellow means a repair is coming soon and red means it needs to be taken care of immediately. This gives you time to budget and save for upcoming repairs.

Never let your gas tank go below the quarter mark -- it means trouble for your car. The bottom of your gas tank is full of sediment, and when there's not very much gas left, that sediment gets picked up and goes through your engine, potentially damaging it.

Lauren's rule of thumb is that if a car's repairs cost more than the car is worth, it's time to sell. If the engine is totally worn out or it would require an expensive repair to sell, you're better off scrapping it altogether.

You should wash your car weekly and wax it every six months to protect the paint and finish -- not to mention your car's value. Things like acid rain, sunlight, salt, dirt and air pollution all damage your car's exterior, which will lead to lower resell prices.

If you drive between 10,000 and 15,000 miles a year, leasing a car can be a great option. However, you might want to think of buying if you drive less, or you're wasting money by leaving unused miles on the table. And if you drive more than the lease mileage, you'll go over the vehicle's warranty, leaving you responsible for anything that might go wrong.

In rainy, snowy or icy conditions, skip the cruise control. The feature is designed to keep your car at a steady speed, giving you less flexibility to slow down -- which is what you should be doing in bad weather! And remember, if you truly feel unsafe, please pull over.

There's nothing worse than being stuck on the side of the road and waiting hours for a tow truck -- or relying on strangers. Lauren recommends having three essentials in your car at all times: an emergency kit, a tire inflation product like Fix a Flat and a battery jump starter that plugs into your car's cigarette lighter/battery socket, like the CarStart models, all available for around $39.99 at major retailers.
Add Marlo On Facebook:
Follow Marlo on Twitter:

Weekly Newsletter

Sign up to receive my email newsletter each week - It will keep you up-to-date on upcoming articles, Mondays with Marlo guests, videos, and more!

Sign up here