WASHINGTON -- If you're not quite ready to start cooking with cicadas, The Ritz-Carlton, Washington, D.C. has the drink for you: a Cicada Soirée cocktail topped with a chocolate cicada.
And before you ask: No, there isn't actually an insect in this drink. The cicada here is 100 percent Madagascar chocolate.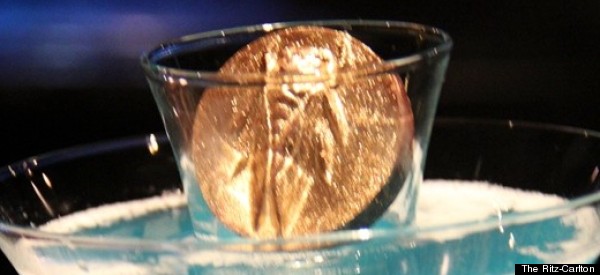 The Cicada Soirée, available in the hotel's Lobby Lounge through June 14, is made with Grey Goose L'Orange Vodka, fresh pineapple and Blue Curacao, and served straight up in a martini glass.
Executive Chef Yves Samake had a special mold made just for this seasonal chocolate creation, The Ritz-Carlton told The Huffington Post, and the resulting cocktail topper is "fresh, fruity and a bit tangy."
The Ritz-Carlton won't be the only D.C. destination serving cicada-themed drinks. When Brood X cicadas emerged from the ground in 2004, local restaurants served drinks like the Cicada Cocktail (Kramerbooks), the "They're Back Tini" (Fairmont Hotel) and the Bug Juice Martini (Helix Lounge).
Feeling more adventurous? Try mixing up your own cicada concoction at home!
Gizmodo shares a recipe for deep-fried cicadas that's pretty similar to fried chicken, just with a different protein source.

It's rhubarb season, so why not bake a pie with more protein by adding a handful of cicadas? That's the secret ingredient in this cicada rhubarb pie.

It's important to note that you must blanch cicadas before cooking with them. That's the first step before starting this cicada-portobello quiche.

"Cicada chef" Kirk Moore likes to marinate cicadas overnight in Worcestershire sauce before frying. Watch the video to see his technique.

The first step in making these cicada chip cookies is pulling off the bug's wings and legs. The legs go into the trash but save the wings -- the recipe advises using them as a decorative cookie topping.

In a taco smothered with cheese and sour cream, could you really tell whether it's a cicada taco or one stuffed with chopped chicken?

The soft-shell crab sandwich is the official state sandwich of Maryland, so perhaps Marylanders won't be too put off by the idea of a soft-shelled cicada sandwich.

Feeling adventurous in Chinatown, food blogger Andy Ogden experimented with cicada soup. The result? "Very reminiscent of cream of mushroom… just with little specs of bugs in it."

An ice cream shop in Missouri was told to stop making its popular cicada ice cream, but theKitchn has a basic recipe for making your own batch at home.

This recipe for chocolate-covered cicadas is as simple as it sounds and may be the most delicious way yet to try these bugs.