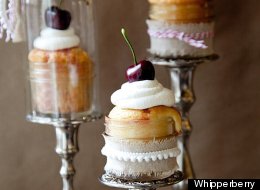 If you're new to the food blogging world, or if you're just looking for some fresh blogs to add to your weekly food reading list, look no further. Here at HuffPost Taste, if there's one thing we know extremely well (aside from cooking and eating food) it's food bloggers. And we have more favorites than we can keep track off.
We spend our days reading food blogs (not a bad gig, we know), and so we discover new blogs we love almost everyday. We've been chronicling our favorites for a while now. Check out the 10 we're obsessed with this month.
Want to read more from HuffPost Taste? Follow us on Twitter, Facebook, Pinterest and Tumblr.
yammiesnoshery.com/ This amazing cake was made by the young blogger behind Yammie's Noshery. Be prepared to be wowed when you visit her blog.

drizzleanddip.com Anytime we're in need of a little kitchen inspiration, we take a quick visit to Drizzle & Dip and we're once again filled with wonderful ideas of things we can't wait to make.

abeautifulmess.com/ The duo behind A Beautiful Mess will not only bring you just the kind of baking project you're looking for, but also great crafting ideas (if you're into that sort of thing).

naturallyella.com/ The motto behind this blog is to live naturally, be healthy, and eat delicious. If those things are important to you too, Naturally Ella should be on your regular reading list.

mowielicious.com Not only is Mowie a phenomenal recipe developer, but his food styling skills and expert photographic eye make visiting his blog an aesthetic experience.

brooklynsupper.net/ For seasonal cooking that's inspiring, the folks at Brooklyn Supper won't let you down.

cookiesandcups.com/ A self-proclaimed buttercream addict, Shelly's sweet "problem" ensures that her blog is full of enough delectable sweets to last you through a lifetime of baking.

browneyedbaker.com Michelle of Brown Eyed Baker features both sweet and savory recipes, but one thing you can count on is that they're all perfectly decadent.

ihearteating.com This is the blogger that brought us the copycat recipe for the Honey Wheat Outback bread. Enough said.

whipperberry.com/ Whipperberry is part food blog, part crafts. She's definitely a creative person, and that comes across in her unique recipes.