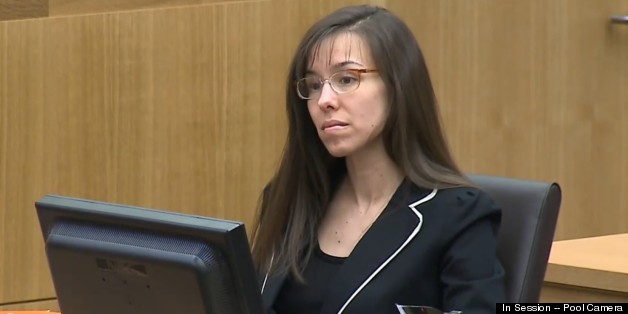 After a jury convicted her of first-degree murder, Jodi Arias said she would prefer the death penalty as opposed to spending the rest of her natural life in an 8' x 10' prison cell.
"The worst outcome for me would be natural life. I would much rather die sooner than later," Arias told Fox affiliate KSAZ in a post-conviction interview.
"Longevity runs in my family, and I don't want to spend the rest of my natural life in one place ... I said years ago that I'd rather get death than life, and that still is true today. I believe death is the ultimate freedom, so I'd rather just have my freedom as soon as I can get it."
On Wednesday, the same jurors who found Arias guilty after her four-month trial will return to the courtroom to decide whether she should face life in prison or the death penalty.
Arias was convicted last week of first-degree murder in the 2008 slaying of her ex-boyfriend Travis Alexander. For 19 weeks, a jury of eight men and four women listened to prosecutor Juan Martinez accuse Arias of premeditated murder. Arias' defense team claimed self-defense, saying she was a victim of domestic violence.
Friends of the man Arias murdered think her interview shows that she's up to her old deceitful tricks.
"There are three things we know with certainty about Jodi Arias. 1- She lies, 2- She lies, and 3- She lies. This is not up for debate, it's what she does," Chris Hughes, a close friend of Alexander's at the time of his death, told The Huffington Post.
"I think Jodi's request for the death penalty is Jodi doing what she does; lying and manipulating," Hughes said. "Jodi is scared to die. She has been threatening to kill herself since high school. She has had access to guns and knives [and] she is still here. If Jodi wanted to be dead, she would be."
SEE PHOTOS: 50 SHADES OF ARIAS

Dave Hall, another close friend of Alexander's who has been vocal about his feelings since the verdict came down, has a similar take. "I think Jodi Arias loves herself too much to actually want that," he told HuffPost.
Both Hall and Hughes, along with Hughes' wife, Sky, have stood by the Alexander family since Travis' slaying. In December 2011, Sky Hughes told HuffPost that Arias deserved to die for what she did.
"I can't think of anything scarier than her being let out," Sky Hughes said. "She would date again -- someone's son, brother, friend. She slaughtered an innocent person because he didn't want to be with her. She has no soul, no accountability. As long as she is alive, those she has contact with are not safe. She is extremely evil, and she deserves the death penalty."
The Hughes, and Hall are happy with the guilty verdict and are now looking forward to the final chapter -- Arias' sentencing.
However, as Alexander's friends have indicated, the sincerity of Arias' supposed desire for death is in question. The 32-year-old convicted murderer is an admitted liar, raising the question of whether she is a sympathetic character or a great actress. Chris Hughes believes she is the latter of the two.
"Jodi wants to live so she can continue to control and manipulate those that are too blind to see her for who she really is," he said. "Jodi wants to live so she can continue to milk the media, and the world, for attention she doesn't deserve. She wants to play the victim, which is a slap in the face to anyone who is/was a real victim of domestic violence ... She is "famous" for slaughtering a good man in cold blood on June 4, 2008, but she didn't stop there ... She has continued to slaughter him for the past five years."
The aggravation phase of Arias' trial begins Wednesday at 1 p.m. EDT. During the aggravation phase, the defense and prosecution will present opposing arguments about whether Arias killed Alexander in an "especially heinous, cruel or depraved manner." If the jury finds that she did, then the death penalty becomes an option in sentencing.
After the aggravation phase, the sentencing phase begins, during which the jurors could hear from the families of Alexander and Arias. Arias could also be sentenced to life in prison without the possibility of parole, or 25 years to life in prison. To sentence her to death, the jurors must be unanimous in their decision.
Arias was put on suicide watch right after the verdict, but now is in regular custody. Alexander's friends, however, said that her threats of suicide are just that, threats.
"She has been threatening to kill herself since junior high or high school. She has had access to guns and knives [and] she is still here. If Jodi wanted to be dead, she would be," Hughes said.
Hall added that the threats are likely more self-preservation. "If she tells people, give me death and then they do, it's a way of protecting her[self] and acting like she's not hurt ... since the outcome was what she said she wanted."
The Arias family has declined to comment.
WHAT DO YOU THINK? VOTE IN THE POLL:
SUBSCRIBE TO & FOLLOW BREAKING ALERTS
Don't miss out — be the first to know all the latest and breaking news. Learn more