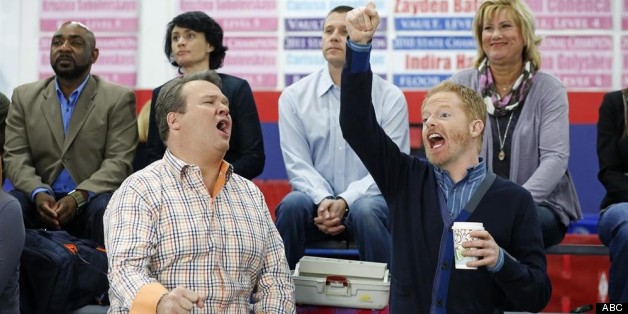 Could Cam and Mitch finally get hitched next season on "Modern Family"? Ed O'Neill, who plays Jay Pritchett, thinks it's in the cards.
At the Entertainment Weekly & ABC-TV New York Upfronts party this week, the "Modern Family" star said he wouldn't rule out the possibility of his onscreen son Mitch (Jesse Tyler Ferguson) and his partner Cam (Eric Stonestreet) getting married in the upcoming fifth season of the ABC series.
"That I don't know about, but it's not a bad bet," O'Neill told The Huffington Post. "I didn't think of that! Because, you know, Jesse's getting married this summer. You think he'll be wearing a bow tie?"
O'Neill isn't the only who's pushing for the couple to tie the knot. This week, ACLU Action, the advocacy arm of the civil liberties group, launched a campaign in support of an onscreen wedding for Mitch and Cam.
The season finale of "Modern Family" airs on Wednesday, May 22 at 9 p.m. ET on ABC.
Do you think Mitch and Cam will get married in Season 5? Sound off in the comments.
SUBSCRIBE AND FOLLOW
Get top stories and blog posts emailed to me each day. Newsletters may offer personalized content or advertisements.
Learn more