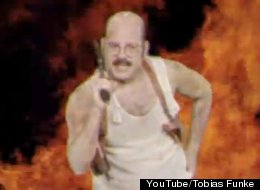 Adding to the mounting excitement surrounding the upcoming release of the fourth season of "Arrested Development," self-described blowhard/analrapist Dr. Tobias Fünke has released a sizzle reel of new footage showcasing his incredibly awkward acting skills and a variety of his hilarious characters.
The mock audition tape is addressed to the show's narrator and executive producer, Ron Howard, who tweeted a link to the video on Wednesday.

In the predictably outrageous reel, Fünke shows off his whiskey-drinking, rifle-shooting and tiger-riding talents, in addition to promoting a new website, "Insert Me Anywhere," which explains how you can take your favorite Fünke character and (with the help of a green screen) put him just about anywhere you want.
...There's got to be a better way to say that.
Click the video above to watch.
(Hat tip, Uproxx)