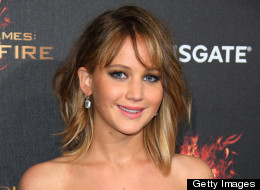 When Jennifer Lawrence isn't being the best, she's co-starring in "X-Men: Days of Future Past" for director Bryan Singer. Lawrence reprises her role of Mystique from "X-Men: First Class," meaning she has to don the mutant's famed blue skin for the part. On Monday, Singer tweeted a photo of Lawrence done up like Mystique for all the internet to see.
First look: #JenniferLawrence as a vengeful #Mystique. #XMen #DaysOfFuturePast twitter.com/BryanSinger/st…

— Bryan Singer (@BryanSinger) May 20, 2013
"I'm so excited because I'm going to wear a body suit," Lawrence told E! Online back in February about playing Mystique in "Days of Future Past." For "First Class," Lawrence went through hours of makeup and body painting; six makeup artists put Lawrence's "First Class" look together.
"[The body suit] will be from neck down so it will cut out time and the blisters," she said.
Whether Lawrence got her body suit wish is hard to tell in the photo. Regardless, "X-Men: Days of Future Past" is out in theaters on July 18, 2014. Lawrence will be seen later this year in "The Hunger Games: Catching Fire."