One week before the debut of their very first album, our favorite British girl group, Little Mix, is gracing the cover of Seventeen magazine.
Wearing black-and-white outfits with '90s-inspired platform shoes, Jade, Jesy, Perrie and Leigh-Anne share their love for the Spice Girls, which boy band they go to for advice and their fashion tips in the June/July issue of the magazine. Scroll down to see their cover photo.
"When we met the Spice Girls, Emma Bunton told us to keep being friends because that's the connection fans love you for," Jade said.
The boys of One Direction also had some words of wisdom to share with the foursome. Like Little Mix, 1D were on "The X Factor UK" and had already established themselves as a popular boy band in Britain before they began to win over fans in the U.S.
"I asked the boys from One Direction how to make it in America and they basically said: 'be yourself and you can't go wrong,'" Leigh-Anne said. "People know when you're trying to be someone you're not. Just be true to who you are.' So that's what we've been doing!"
In addition to the magazine cover, Little Mix premiered a new web series with Seventeen called "Seventeen Style Diaries with Little Mix." Every Thursday, starting May 23, there will be a new video uploaded on YouTube about all-things Little Mix, beauty and style. Check out the video above to watch the girls talk about their fashion inspiration in the first episode.
For more on Little Mix, head over to www.seventeen.com/littlemix and pick up the June/July Issue of Seventeen on newsstands at Wal-Mart on May 21.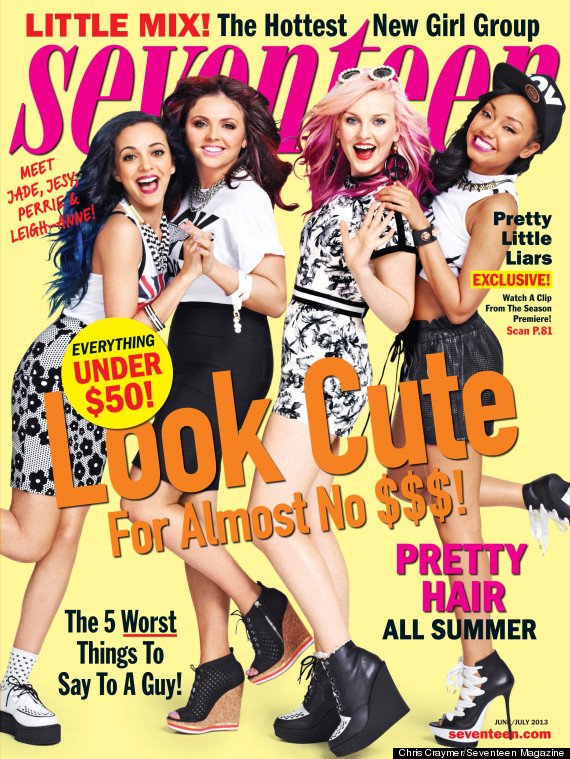 Also on HuffPost:
Loading Slideshow
They Make Killer Pop Songs

Of course, the most important part of the equation for pop music success is having great voices combined with catchy songs -- and Little Mix has got that down pat. We can't stop listening to "Wings," the girls' super-catchy single with totally inspiring lyrics, which will be their first single released in the US.

They Already Have A Devoted Fanbase

The girls are well on their way to achieving 1D levels of fan hysteria. The girls' UK fanbase -- also known as "<a href="http://www.tumblr.com/tagged/little%20mixers">little mixers"</a> or just "mixers" -- are ready for their favorite foursome to make it big.

They Have A Strong Leading Lady...

As the most well-known member of Little Mix, Perrie Edwards is essentially the Harry Styles of the group. Once these girls make it big, we predict that Perrie will be frequently making headlines. <a href="https://twitter.com/LittleMixOffic">Follow Little Mix's official Twitter </a> account for updates from Perrie and the girls.

... Who Has A One Direction Boyfriend

Most US Directions know Little Mix solely because of Perrie Edward's long-term relationship with 1D heartthrob Zayn Malik. And they're a pretty adorable couple. Edwards' bandmates even <a href="http://www.entertainmentwise.com/news/97813/One-Directions-Zayn-Malik-Is-Absolutely-Smitten-With-Perrie-Edwards-Say-Little-Mix-Bandmates">gushed to EntertainmentWise</a> that they "have never seen a boy love a girl so much."

They've Got The Simon Cowell Stamp Of Approval

We all know that everything Simon Cowell touches turns to sold -- and we're banking on Uncle Si to turn Little Mix into the next Spice Girls. A source told The Sun during "X Factor" Uk that Cowell was <a href="http://www.thesun.co.uk/sol/homepage/showbiz/tv/x_factor/3990419/Simon-Cowell-wants-X-Factor-Little-Mix-as-new-Spice-Girls.html">"extra excited"</a> about the group.

They Have Great Style

At the BBC Radio 1 Teen Awards last October, Little Mix strutted down the red carpet in an array of eye-catching outfits. The girls' bold hair and wardrobe choices -- think Rihanna and Nicki Minaj -- will get fans excited for their every appearance.