McDonald's Japan has given the term "supersized" new meaning with its new "Mega Potato" French fries, which combines the contents of two large fries in one super-wide container.
It's an interesting move, considering that other parts of the world are trying to put the breaks on the obesity epidemic that is, in part, fueled by a global obsession with fast food.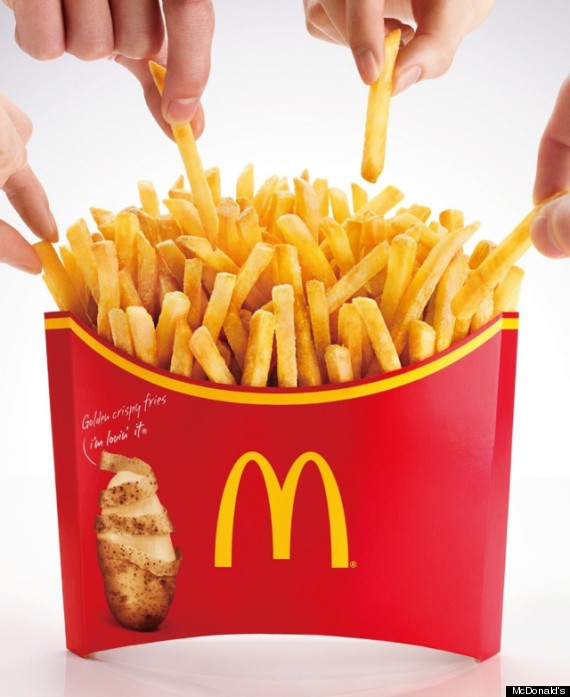 The offering, which will be on sale until late June, goes for $4.80 (490 yen). That's a relative steal compared to the price of two large fries at $6. We just hope people choose to share the dish -- according to Japan Today, the fries are the most caloric offering McDonald's has ever dreamed up.
Watch Rocketnews24's video showing size comparisons of McDonald's other French fry options below.
Also on HuffPost:
Loading Slideshow
LAST PLACE: Cheesecake Factory, 2

"Dry, flavorless, coated in weird batter." "Nothing to write home about." "Good thickness but boring." "Edible but not satisfying."

7th Place: TGI Friday's, 2.1

"Floppy and wan." "Soggy, no flavor." "Soft but well-seasoned." "Sad."

6th Place: Ruby Tuesday's, 2.75

"Thin, unremarkable." "These taste like they were dipped in batter. Weird." "Nice, thin and crispy." "Very bland and mushy."

5th Place: Red Lobster, 2.83

"Hot and crispy." "Too thin, not fluffy enough." "So subpar. No crisp, no flavor, just salt." "Highly average."

4th Place: Planet Hollywood, 3.14

"Love the crunchy batter." "Savory, addicting." "Crunchy on the outside but lacking fluffiness inside." "Great batter." "Not a fan of battered/coated approach. Crispiness the only redeeming quality. Not a fry I want to eat." "Dry, crusty."

3rd Place: Applebee's, 3.86

"Totally passable. Distinctive onion-y seasoning." "Almost beefy flavor. Could not stop eating. Crave-worthy." "Not notable but totally edible." "Crispy and moist, insides like mashed potatoes." "A little rubbery and lacking salt."

2nd Place: Hard Rock Cafe, 4

"Perfect salt and thickness. Umami taste." "Excellent and crisp." "Thick, crunchy exterior, soft interior." "Totally solid with a little seasoning."

WINNER: Chili's, 4.8

"Tasty even without ketchup." "Love the salty seasoning! "Big, creamy and crisp fries. Just what you're looking for in a fry." "Thick but not too thick."