Weird Candy Around The World (PHOTOS)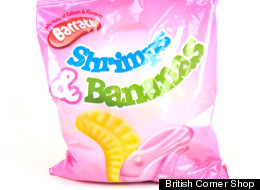 We're about to tell you something that will not surprise you: Japan makes some of the weirdest candy in the world. Just the other day, we got totally freaked out by some instant Japanese candy. It got us to thinking that there must be comparably weird candies being made all around the world.
In truth, Japan manages to produce most of the weirdest stuff, but places like England, Malaysia and Mexico held their own. We tried to stay away from candy that was gross for the sake of being gross (with one notable exception that we're sure you'll be able to identify). Green candy goo that you eat out a nose-shaped holder is gross, but it's mostly for shock value. Today, we're looking at the kinds of candies that humans actually like to eat, especially if the flavor profile seems exceedingly strange to other cultures (yes, there is a grilled lamb-flavored candy on this list).
What's the weirdest international candy you've ever eaten? Let us know in the comments!
Want to read more from HuffPost Taste? Follow us on Twitter, Facebook, Pinterest and Tumblr.
Weird Candies Of The World
Salsagheti are spicy watermelon strings, that you top with a packet of tamarind sauce. Weird on, Mexico.

Okay, as Japanese candies go, Botan Rice Candy isn't terribly weird. But it does have an edible rice paper wrapper (which is still wrapped inside a plastic wrapper as well, so we've never really understood the point).

Try as we might, we cannot figure out what Shrimps & Bananas have to do with each other. Also, we've heard that the shrimp are actually raspberry-flavored, so don't freak out TOO much.

We're going to let the Amazon description speak for itself: "High concentrated taste of milk. At last! A candy that's both healthy and tasty!"

We can't say that Musk Flavoured Sticks sound delicious, but we've been wrong before.

These appear to be melon soda flavored gummies, but if anyone can tell us why they are called Devil Fruit Seed Gummy, we would really appreciate it.

Okay, one of our editors really loves this gum, but you definitely have to love black licorice to love Black Jack.

Chocolate Every Burgers are only really strange because we now only expect gummy candy to impersonate fast food. These chocolate and cookie biscuits really look like tiny burgers.

These gummy lightning bugs come with LED tongs, that make them light up when you grab ahold of them. Obviously we want these.

Salty, lemony Pop Rocks. We're intrigued. And afraid.

Hi-Chew makes some of the most delicious, intensely fruit-flavored chews we've ever tasted -- which is why we're going to steer particularly clear of their durian flavored chew. We just know they'll nail the flavor.

Kočiči Jazyčky is Czech for "Kitten Tongues." No seriously. These are chocolates, molded into the shape of kitten tongues. We don't even know anymore, you guys.

The Popin' Cookin' line by the Kracie company makes some of the craziest candy we've ever seen. Each kit is an adventure in molecular candy gastronomy, as you magically mix powders and liquids, and watch candy form before your eyes. We're sure they're terrible for you, but they are amazing to watch people make.

Satellite wafers (also sometimes called Flying Saucers) have a thin, rice-papery outside that melts in your mouth, revealing either candy beads or sour candy powder inside. These are so strange, but we can never stop eating them when they're around.

Salty tomato candy. As people who love salt, tomatoes and candy, we just have to say: no.

From what we've heard about Creamy Corn Candy, it really, honestly tastes like sweet creamed corn. WHY DO WE WANT TO TRY IT?

There are A LOT of Kit Kat flavors in Japan. We wish more of them would travel stateside, but one of the ones we're content to live without is definitely the Wasabi Kit Kat.

Yeah, you heard that right. Grilled lamb caramels.

Foaming toilet candy, to be more precise. Thank you, Japan. And yeah, this one required video.