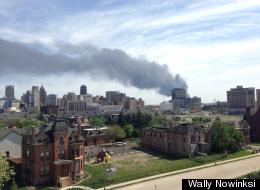 A Windsor fire at an industrial warehouse that began Tuesday afternoon has caused police in the Canadian city to close roads as firefighters battle the blaze.
Ojibway Parkway between E.C. Row and Morton Drive is closed to motorists, according to the Windsor Star. According to WindsoriteDOTca, police have asked residents to keep their windows closed.
Billowing smoke could be seen across the river and as far away as the suburb of Livonia on Detroit's western border.
According to WXYZ-TV in Detroit, police said the blaze comes from a large amount of burning plastic at Sprucewood Industries.
CBC reports the Windsor is closing down outdoor facilities as a precautionary measure.
UPDATE: Wednesday, May 22 - A state of emergency was lifted Tuesday evening after the blaze at the recycling warehouse that contained up to 125,000 pounds of plastic was controlled by firefighters, who battled for more than seven hours. For more info and photos, see the Windsor Star.
Panoramic shot from along the river by Tim Pamplin of Local4. On Twitter: @nightcam.

From @UntitledCampus on Twitter

Photo from @janelleokeefe on Twitter of the fire from the Woodbridge neighborhood in Detroit.

From @j_weathers on Twitter, as seen on Woodward Avenue in Midtown Detroit.

Windsor Fire is on scene of a fire at 730 Sprucewood. http://t.co/v8BJ0rB80x

The view from Brush Park, from @nawooski on Twitter.

HUGE smoke cloud over Detroit from this Windsor fire. Scary stuff #Detroit #windsor #fire

Heavy smoke seen from downtown Detroit is from Windsor http://t.co/SgZBtf9JOM via @freep

Big fire now in Windsor, Canada, sending black plumes of smoke across river over Detroit. Video I just shot: http://t.co/DmNMeZgxVq

I'd know I leave my neighborhood every day &pass the welcome to Windsor sign then magically down the street, the fucking building on fire.

Bike ride on the river - something big in Windsor is on fire. Wow... http://t.co/KMpRoRqdXM

Hey Detroit the smoke you're seeing is a fire in Windsor. A warehouse with plastics inside.

50,000 lbs of plastic burning & this fire is uncontrollable by windsor and lasalle fire fighters.