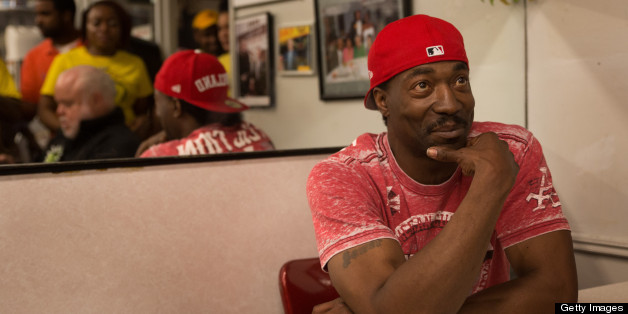 Local hero and burger enthusiast Charles Ramsey will never have to pay for a beef patty in Cleveland again, thanks to a special free burger card good at more than a dozen area restaurants, the Cleveland Plain Dealer reports.
"I heard screaming," Ramsey told reporters after the rescue on May 6. "I'm eating my McDonald's, I come outside, I see this girl going nuts trying to get out of her house. So I go on the porch and she says, 'Help me get out, I've been here a long time.'"
The Internet quickly latched onto Ramsey's McDonald's detail, and the fast food chain was soon swamped by people asking the company to honor the burger-loving neighbor.
The "Chuck Card," which is "good for life," was the brainchild of Scott Kuhn of the Driftwood Restaurant Group.
"We want to honor our local hero with local food," Kuhn told the news outlet. "He stopped his meal midway through to help those women. We're now making sure he has other opportunities to go out and fully enjoy his burger."
Hodge's Cleveland, the restaurant where Ramsey works as a dishwasher, unveiled a new Charles Ramsey-inspired hamburger on May 13:
Tomorrow: We launch the #RamseyBurger! 8 oz. CAB burger with secret sauce and more for $12 (served with tots)!
Also on HuffPost:
3 Missing Cleveland Women Found
SUBSCRIBE AND FOLLOW
Get top stories and blog posts emailed to me each day. Newsletters may offer personalized content or advertisements.
Learn more