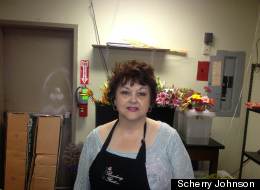 One local business can't ease the suffering of those who lost loved ones in Monday's tornado, but it is determined to relieve their financial burdens.
Broadway Florist in Moore, Okla., announced Wednesday it was providing free flowers for the funerals of the tornado victims.
"That's how I give back," owner Scherry Johnson told The Huffington Post.
The family of one boy who died in Monday's twister had already contacted the florist, she said.
Johnson, 55, explained that she got the idea to donate the flowers at breakfast Wednesday morning with her husband and 8-year-old son.
She thought of her good fortune: The tornado missed her business and house (although her home had been damaged in three previous tornados), and she and her employees were able to take refuge in a baptist church as the deadly funnel bore down on Moore. Then she thought of the children lost.
"You don't ever think something will happen to your children," she said. "I've got a big heart when it comes to kids."
She knew the money worries that grieving families would face at the worst possible moment. (Floral arrangements can cost between $500 to $1,000 and up, she estimated.)
Johnson's announcement came as the names of several tornado victims were released. Ten of those killed were children.
She told HuffPost that she could accommodate other arrangement requests, such as teddy bears, again, for free.
"We're up and running and we're trying to make sure we take care of our friends in Moore," she told KOCO earlier.