As families across Oklahoma start to pick up the pieces in the wake of Monday's devastating tornado, one family is reeling after the loss of two of their children to the storm.
According to a Tuesday report from the Oklahoma medical examiner's office, Sydnee Vargyas, 7 months, and her sister Karrina Vargyas, 4, were among the 10 children so far declared dead in the suburb of Moore.
The medical examiner reports that Sydnee died from "blunt force trauma of the head." Her big sister sustained "multiple blunt force injuries."
So far, Sydnee Vargyas is one of the youngest victims, according to the medical examiner. The total stands at 24 dead, including 10 children.
Speaking with the Daily Mail, the childrens' father, Phillip Vargyas, still sounded dazed.
"We just don't know what to do anymore," he said, adding, "At this point we have a lot of things to do, little things to do for the girls. ... We are trying to move in the right direction but it's hard to know where to go at all, what to do."
According to the Daily Mail, the girls were at home with their mother, Laurinda Vargyas, when the tornado ripped the house apart. The mother managed to survive the ordeal, as did the two oldest children, Damon, 11, and Aria, 8, who were at school at the time.
Uncle Mike Canady told NBC Texas affiliate KCEN-TV that he never got a chance to meet his baby niece, but that a picture of her smiling always cheers him up.
"I thought I'd be able to see both of them grow up and be what they want to be, but now I really can't," he told the station. "I can't do nothing but just let them just look down on me."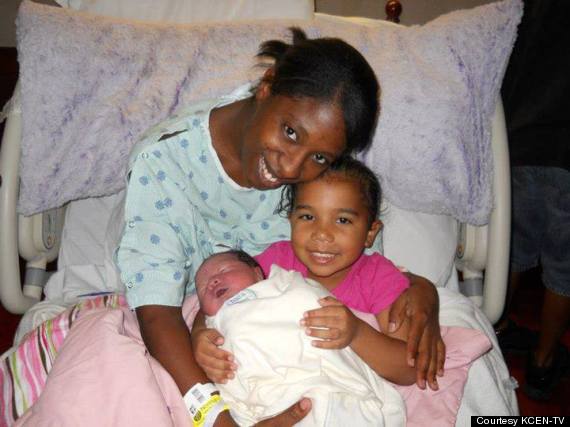 Moore Oklahoma Tornado Victims
A family photo showing Daniel Angle from left, Sydney Angle, Nicole Angle, Jory Pratt and Casey Angle is seen on May 22, 2013, in Moore, Okla. Sydney Angle was killed when a powerful tornado destroyed Plaza Towers Elementary School and ripped through the town Monday, destroying homes, schools and businesses, and killing several people, including children. "She was always smiling," her father Dan told NewsOK. She also loved softball. Last weekend, she struck out five batters in her final game. The Sydney Angle Fund will cover funeral and medical costs and other immediate family needs. (Joshua Lott / AFP / Getty Images)

Kathryn Begay served in WWII. She had in shakeable faith in Jesus Christ. She loved to fish and garden and she loved her family unconditionally. She had amazing strength and fought till the very end. Read her obituary here.

Hemant Bhonde, 65, was sheltering with his wife in their bathroom before he died. Bhonde was a retired GM worker who emigrated from India several decades ago, according to NewsOK. The Bhondes lived across the street from the Plaza Towers school. His wife Jerrie, told CNN, "I know my husband's with me. He had a bright light that wouldn't be put out, and he'll be with me for the rest of my life." Image via Twitter.

Aontonia Canderaria 9, died at Plaza Towers Elementary while sheltered with her best friend Emily Conatzer. Canderaria's funeral was the first to be held for tornado victims following Monday's tragedy. According to her obituary, "[Canderaria and Emily Conatzer] were inseparable, even in their last moments, they held on to one another and followed each other into Heaven and they will never be alone." (Courtesy of Brandie Candelaria / AP)

Emily Conatzer, 9, (right) died at Plaza Towers Elementary School. The third-grader was reportedly found in the arms of her best friend, Antonia Lee Candelaria, who also died in the tragedy. The Conatzer Family Tornado Relief Fund will help the family rebuild the home they lost and cover immediate family needs. Image via Kristi Strickland Conatzer's Facebook profile.

In this November 2012 photo provided by the his family, 8-year-old tornado victim Kyle Davis poses for a photo while attending an Oklahoma University football game at Owen Field, in Norman, Okla. Nicknamed "The Wall," Davis loved playing soccer and going with his grandfather to the fair grounds to watch Monster Truck exhibitions. Kyle was killed Monday, May 20, 2013, when a huge tornado roared through Moore, Okla., flattening entire neighborhoods and destroying Kyle's elementary school with a direct blow as children and teachers huddled against winds up to 200 mph. (The Kyle Davis Family / AP)

Megan Futrell, 29, died, along with her 4-month-old child, Case, (not pictured) while sheltered in a 7-Eleven. Megan Futrell is survived by her 8-year-old son, Kanon, and her husband, Cody. Image via Megan Billingsley Futrell's Facebook profile.

Ja'Nae Hornsby was one of seven children who died at Plaza Towers Elementary. According to KOCO, "Janae's father described her as a vivacious, lovable little girl who loves to play and always has a smile on her face."

Leslie Johnson died at age 46. Pictured: Leslie Johnson and Tewauna Robinson. Image via Marissa Collins-Jarred

Christopher Legg, 9, was a Plaza Towers Elementary School student who loved sports, according to an obituary. "He was greatly loved by all who knew him. He never met a stranger, because you were always a friend in his eyes." The Ross & Danni Legg Family Tornado Relief Fund will help the family rebuild their home. Image via Ross & Danni Legg Family Tornado Relief Fund

Terri Long, 49, was a Federal Aviation Administration employee in Oklahoma City, according to an obituary. "Terri loved traveling, photography, anything Harley Davidson, and helping others. She loved to read and camped out to see the Twilight series with her daughters." Image via Dignity Memorial

Nicolas McCabe, 9, was a student at Plaza Towers Elementary. "He was a bright young man with an ornery grin who adored his family and friends at Plaza Towers Elementary. Nicolas loved Legos, country music, and going to the lake where he desired to have his own 'Pontoon boat' one day," according to an obituary. The Nicolas Scott McCabe Fund will help cover funeral and home rebuilding costs. Image via gofundme.com.

Jenny Neely, 38, was sheltering with her son Jacob when she was killed, according to News On 6. Jacob's father, Michael Neely said, "She was a great mother. I couldn't have had a better mother for my kids." Image via News On 6

Cindy Plumely, 49, is remembered as a loving mother and grandmother, according to KFOR. "Cindy was an LPN and worked at the Veteran's Center in Norman, OK.," according to an obituary. Image via Dignity Memorial.

Shannon Quick, 40, loved watching her son's baseball games, according to an obituary. "She loved cooking and was known for putting together a tasty Crock-Pot dinner for her family." Her mother, Joy Waldroop, 61, reportedly told The Oklahoman, "I couldn't ask for a better daughter. She cared for her family." The Shannon Quick Fund will cover medical bills for Shannon's mother, Joi Waldroop, and her 8-year-old nephew, Jackson Quick, who was injured and needs surgery on his shin, pelvis, femur and buttocks. The fund will also help rebuild the home they lost, Jeremy Soulek, Shannon's brother, told HuffPost. Shannon Quick. Image via Jeremy Soulek

Tewauna Robinson died at the age of 45. Her daughter, Angeletta Santiago, last heard from her mother on Monday during the storm, according to KSDK. "I love you," Robinson told her before hanging up. Image via KSDK.com.

Randy Smith, 39, was an electrician who "loved to spend time with his family, especially his son, Dylan," according to KFOR. Image via Legacy.com

Karrina, 4, and her sister Sydnee, 7 months, were among the 10 children killed by the storm. They were at home with their mother, who survived the ordeal. The children's father, Phillip Vargyas, told the Daily Mail, "We just don't know what to do anymore." Image via KCEN-TV.

Gina Stromski died at the age of 51. Image via Resthaven Funeral Home

Richard Brown died at the age of 41.

Rick Jones, 54, was a postal worker who "worked evenings processing mail in Oklahoma City and lived alone in Moore," according to NewsOK. He was "well-liked," reported The Norman Transcript.

William Sass died at the age of 63.

Deanna Ward died at the age of 70. The Associated Press reports: Ward was described by her daughter, Shelly Irvin, as the "best mom in the world." She died in Monday's storm in the closet of her home about a block from Plaza Elementary School while holding hands with her son. Her son survived. Ward was a retired nurse and was frail, and Irvin told The Oklahoman her son did not have enough time to get their mother into a car and leave the area. "My brother and I have been through a lot of struggles and she never gave up on us. She was always there," Irvin told the newspaper.
For continuing coverage of the tornado aftermath, visit HuffPost Green. Click here to find out more about how to help those affected.
While the Moore Medical Center crumbled around her on Monday afternoon, Shay-la Taylor was in labor with her second baby boy.
The mom-to-be knew about the severe weather watch as she checked into the hospital to be induced at 9 a.m. that morning, but says she wasn't really nervous.
"We're used to tornadoes and sirens," the 25-year-old mom told HuffPost in a phone interview. "If you freaked out every time you heard a siren, you'd have an anxiety attack every May in Oklahoma."
Click here to read the rest of her tale.
--Farah L. Miller