The "Saved By The Bell" finale aired 20 years ago on May 22, 1993, but the Bayside High crew will forever be in our hearts.
From caffeine pills to oil drills, Hot Sundae to house parities, the Max to the mall, Zack Morris (Mark-Paul Gosselaar), Kelly Kapowski (Tiffani Thiessen), A.C. Slater (Mario Lopez), Jessie Spano (Elizabeth Berkley), Samuel "Screech" Powers (Dustin Diamond), Lisa Turtle (Lark Voorhies), Mr. Belding (Dennis Haskins) and even Tori Scott (Leanna Creel) made lasting impressions on every child of the '80s and '90s.
Like they sang at their high school graduation in the "Saved By The Bell" finale, "Now our high school story finally ends. But years from now, no matter where we travel, we'll all look back and think about our friends."
And that we will. In honor of the 20th anniversary of the "Saved By The Bell" finale, check out 20 reasons we still love this childhood gem in video, photo and GIF form (and in no particular order).
1. Jessie's Caffeine Pill Breakdown

2. "Preppy"

(via
kingkinsella on Tumblr
)
3. The Breakup (a.k.a. "How Am I Supposed To Live Without You?")




4. "Hey, Hey, Hey! What Is Going On Here?"

5. "Mama" & "Pig"

(via
bbrainz on Tumblr
)
6. Hot Sundae

7. The Max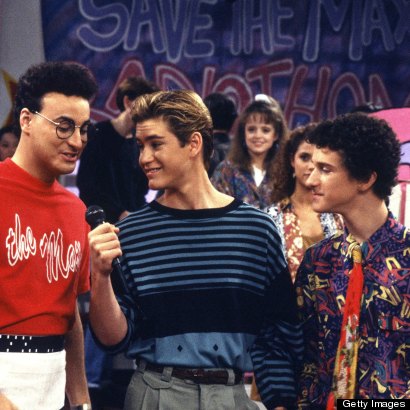 8. Zack's Cell Phone

9. The Sprain

10. "There's No Hope With Dope"

11. The Graduation Song

12. Zach Vs. Slater

13. The Teen Line

14. Screech's Party

15. "Stop The Drilling, Stop The Oil" (R.I.P. Becky)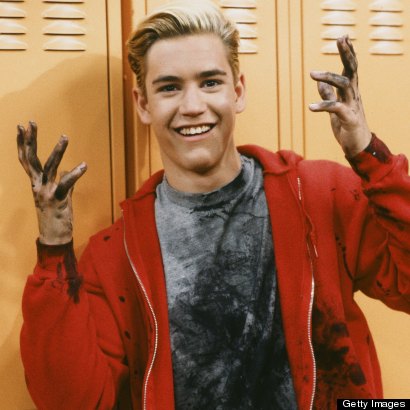 16. Trapped In The Mall

17. Zack Delivers Mrs. Belding's Baby In The Elevator

18. The Malibu Sands

19. Palm Springs

20. Pink Outlining = It Was Just A Dream

(via
Sincaras on Tumblr
)
Click over here to check in with the "Saved By The Bell" gang.
Loading Slideshow
Mark-Paul Gosselaar (Zack Morris)

What's the fastest way to shed your teen heartthrob image? Play a college rapist. At least that's what MPG did when his "Saved By The Bell" stint was over. The actor starred alongside fellow teen idol and "Full House" alum Candace Cameron in the <a href="http://www.youtube.com/watch?v=tbSbQQ39AjU" target="_blank">1996 made-for-TV movie "She Cried No."</a> Fans didn't stop worrying about his decision-making skills until he became one of the good guys again and joined "NYPD Blue" several years later. These days, he's playing attorney Peter Bash on TNT's "Franklin & Bash."

Tiffani Thiessen (Kelly Kapowski)

Bayside's resident cheerleader probably wasn't shaking her pom-poms when her roles mostly consisted of TV movies and some TV series pinch-hitting -- joining the casts in later seasons of "Beverly Hills, 90210," "Two Guys, a Girl and a Pizza Place" and "What About Brian." But it was her scantily-clad role as <a href="http://www.youtube.com/watch?v=zs2x2B-MTw8" target="_blank">Honey DeLune in 2000's "The Ladies Man"</a> -- one of the worst of the "Saturday Night Live" skits-turned-movies -- that's the real dark spot. Thank goodness she's found her footing on USA's "White Collar."

Mario Lopez (A.C. Slater)

Mario Lopez went from being the hit of mall tours as jock A.C. Slater to playing diver Greg Louganis in a made-for-TV movie, a beach bike cop in "Pacific Blue," a doctor on "The Bold and the Beautiful" and a super-kinky MD on "Nip/Tuck." But it's his current gig <a href="http://www.extratv.com/page/about/mario-lopez/" target="_blank">hosting "Extra"</a> -- which ironically shoots at a mall in L.A. -- that makes his full-circle story a bit cringe-worthy.

Elizabeth Berkley (Jesse Spano)

Much like the extreme route MPG took to erase his clean-cut image from "Saved By The Bell," Elizabeth Berkley went from brainy Jesse Spano to taking it all off to play a stripper -- excuse us, <i>exotic dancer</i> -- for <a href="http://www.youtube.com/watch?v=YCCjdUeMAO0" target="_blank">"Showgirls," one of the best worst movies ever made</a>. The mother of one and animal rights activist hasn't appeared on screen in a couple of years, but she did set up a self-help program and website for teen girls called <a href="http://www.ask-elizabeth.com/" target="_blank">Ask-Elizabeth</a> after her husband commented on the number of young women who came to her asking for advice.

Dustin Diamond (Screech Powers)

Dustin Diamond has had quite a long resume, full of roles playing himself since he lovingly annoyed us all as Screech Powers, but that's probably because he couldn't shake the character he played for so many years on "Saved By The Bell" and all of its spin-offs. Money problems, legal issues and a porno later, it's still his <a href="http://www.youtube.com/watch?v=UJs4hyHNEys" target="_blank">s***-starting stint on "Celebrity Fit Club"</a> that truly tarnished his image. However, Diamond is currently working on a few independent films, including "Hamlet A.D.D.," a reimagining of Shakespeare's play.

Lark Voorhies (Lisa Turtle)

Lark Voorhies became a daytime diva, starring on "Days of Our Lives" and "Bold and the Beautiful," where she sadly never overlapped with Mario Lopez. But after playing fashionista Lisa Turtle for so many years, it was her <a href="http://www.huffingtonpost.com/2012/05/11/lark-voorhies-lisa-turtle-photos_n_1509157.html" target="_blank">odd appearance in a 2012 interview</a> that got Voorhies the most attention since her Bayside High days and caused her to admit that she's been struggling with <a href="http://www.huffingtonpost.com/2012/11/08/lark-voorhies-bipolar-disorder-save-by-bell-actress-denies-mental-health-issues_n_2094381.html" target="_blank">bipolar disorder</a>.

Dennis Haskins (Richard Belding)

Dennis Haskins' post-"Saved by the Bell" resume is full of questionable credits -- did Mr. Belding really need to be there for "SBTB" movies "Hawaiian Style," "Wedding in Las Vegas" and "The College Years" spinoff? Wasn't "The New Class" enough? But it's <a href="http://www.amazon.com/Karaoke-With-Favorite-Principal-Dennis/dp/B002IRDDQG" target="_blank">his 2009 karaoke CD</a>, based on his reputation for frequenting an L.A. karaoke bar and capitalizing on his Bayside High character, that caused the most concern. Haskins has returned to his TV roots in recent years, appearing on "How I Met Your Mother" and <a href="http://www.huffingtonpost.com/2012/05/08/mr-belding-mad-men-guest-stars_n_1501096.html" target="_blank">"Mad Men" ... albeit in the role of Cool Whip Test kitchen scientist</a>, but we'll take it.
Related on HuffPost: