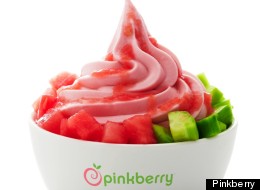 We love watermelon so much. Once they've come into season, it finally feels like it's really summer. Biting into a crisp, juicy slice of watermelon, or drinking and ice cold watermelon agua fresca are some of the best food memories of our lives. We've also come to love watermelon with a bit of salt, or in a salad with feta. We think watermelon has one of the most unique and wonderful flavors on earth, so we'd like to please insist that everyone stop inventing artifical watermelon-flavored things.
Watermelon-flavored vodka, watermelon-flavored TOOTHPASTE -- it seems, as a society, we're intent on shaming watermelon into tasting like something other than itself. Like artificial banana-flavoring, which can really take a long walk off a short pier as far as we're concerned, the atrocities against the true flavor of watermelon continue to surprise us. As an outlet for our disgust, we've compiled the worst ever crimes against watermelons below. Thanks for helping us get through this, guys.
Want to read more from HuffPost Taste? Follow us on Twitter, Facebook, Pinterest and Tumblr.
Crimes Against The Watermelon
We love 21st Amendment. Their Bitter American is one of our favorite beers right now. But we'd like to ask them to kindly remove their watermelon flavoring from our beer in the future.

One of the best parts of watermelon is how refreshing it is. You know what no one's ever called salt water taffy? Refreshing!

You should absolutely make a vodka watermelon. It is one of the only ways we will agree to consume vodka. Guess what -- Smirnoff Watermelon doesn't taste like that tastes. This tastes like you dropped a watermelon Jolly Rancher into a bottle of rubbing alcohol and swished it around.

We know we'll catch some heat for this, because some of you are weirdly attached to these monstrosities, but we're going to call watermelon Jolly Ranchers the single greatest crime against the watermelon ever perpetrated on earth. Watermelon Jolly Ranchers taste like you made a watermelon out of rubber and then set it on fire. We wish them ill.

NOOOOOOOOO.

When we're coughing and have a sore throat, we think of lemon and mint. Watermelon is awesome, but why is it in our cough drops?

Could we drink 23oz of watermelon juice in one sitting? Absolutely. This is not watermelon juice. We repeat: this is not watermelon juice.

Watermelon Pinkberry exists, albeit only seasonally. This watermelon frozen yogurt is actually topped with watermelon chunks, diced cucumber and "watermelon purée." This way, you can taste what watermelon actually tastes like, while you eat frozen yogurt that definitely doesn't taste like watermelon.

Forgive us for sounding old fashioned, but there are just some places watermelon should not go, and we're afraid you guys are using this in coffee. Even if you are just using this in sodas or frozen drinks, we know a way you can make them taste even more like watermelon: use watermelon.

You know what watermelon is full of? Water! You know what Watermelon Citrus Gatorade is full of? Sugar!

Really, guys?

For some reason, it makes it so much worse that the seeds are made of chocolate chips. Photo via Flickr user billyhc

Never fear, guys, Pepsi Salty Watermelon is only available in Japan. One one hand, at least they understand how great a bit of salt tastes on watermelon. On the other, GROSS GUYS.

Okay, guys. Watermelon is not sour. It's sweet, refreshing, juicy, lots of things that are not sour. Please stop making watermelon try to be something it's not. We love it just how it is.

Please, no more.

Please don't get us wrong: none of the flavors of Four Loko taste good. But there is something particularly offensive about their watermelon flavor. It manages to capture the burnt notes of watermelon Jolly Ranchers, while also making us jittery and drunk. Go home, watermelon Four Loko.