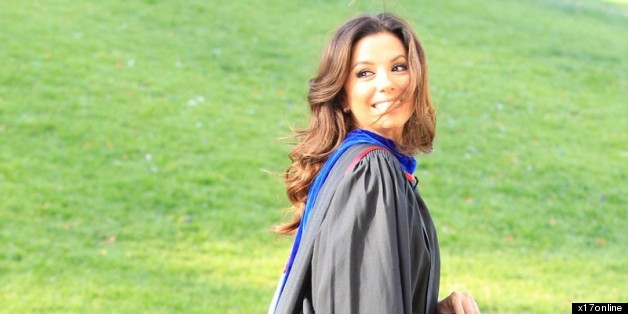 A pesar de una ligera vergüenza la semana pasada en Cannes, Eva Longoria no tiene nada de qué avergonzarse: La belleza actriz se unió a la fiebre de los que usan una toga esta semana ya que se graduó en una maestría de estudios chicanos.
Eva se recibió en la Universidad Northridge de California (CSUN). Un representante de la institución le dijo a TMZ que Longoria inició el programa cuando aún estaba trabajando en "Desperate Housewives" hace tres años, y encontró tiempo para completar su trabajo escolar en el set.
Y a pesar de ser un estudiante de alto perfil y sin importar que todas las miradas estaban sobre ella, Longoria no contuvo su emoción. Y desde su cuenta de Twitter dijo: "¡Hoy es un gran día!!! ¡Muy emocionada porque me gradúo de mi maestría en estudios Chicanos! Nunca es muy tarde ni estas demasiado ocupado para continuar tus estudios".
In my cap and gown with mom and dad! I look like Harry Potter! say.ly/zdO5SK5

— Eva Longoria (@EvaLongoria) May 23, 2013
Aaand here it is! Me and my diploma! say.ly/Lhy5SOQ

— Eva Longoria (@EvaLongoria) May 23, 2013
¡Muchas felicidades Eva!
PHOTO GALLERY
BEFORE YOU GO
Eva Longoria en Cannes 2013
PHOTO GALLERY
Eva Longoria en Cannes 2013