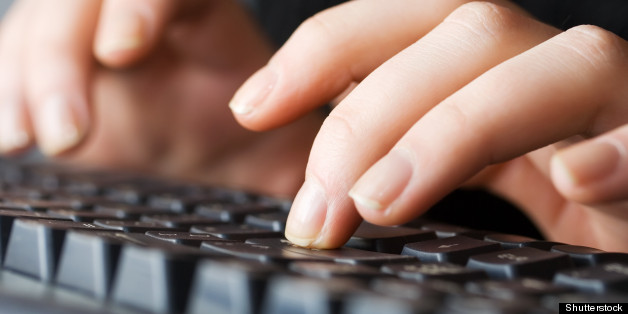 Having a picky eater is one of parenthood's greatest challenges. It may be completely normal for kids to develop food neophobia (yes, there is a scientific term for pickiness), but the lengths moms and dads go to just get a child to eat are vast. Some change the names of unfamiliar cuisines. Others turn the kitchen table into dinner theater. Thanks to Jessica Seinfeld, hiding fruits and veggies in kids' favorite dishes is standard practice.
But one parent's approach is, shall we say, unconventional. In an anonymous Craigslist ad, Mom or Dad is recruiting for an unpaid "talent gig" for a "really really skinny person." The reason seems to be that the mere presence of said skinny person will make children feel badly about throwing away their food.
LOOK: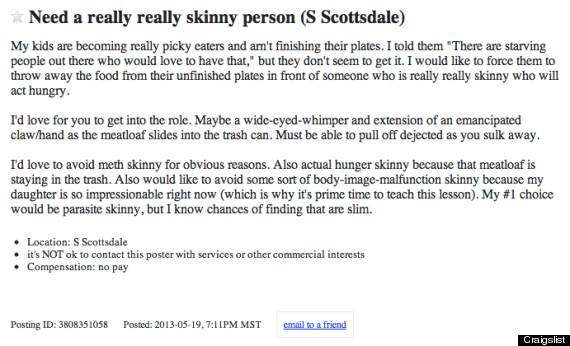 Last resort? Maybe. Still, we're certain there are other ways to teach children to finish their supper. Forget, for the moment, that researchers say parents shouldn't even be urging kids to "clean their plates" anymore. Or that eating two meals comprised completely of chicken fingers is not the worst thing to happen to a kid. The entire effort here -- which includes bizarre messages about what it means to be thin, lying to a child at an impressionable age and possibly exploiting everyone involved on Craigslist -- seems so misguided that we are not the only ones wondering/hoping this is a not-very-funny joke.
ALSO ON HUFFPOST:
PHOTO GALLERIES
Disturbing Vintage Kid Product Ads