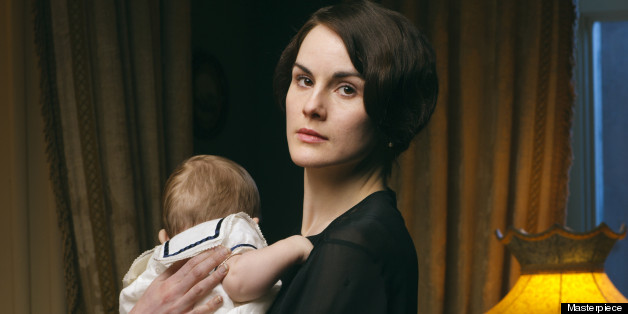 Masterpiece
When asked about a second wedding for Lady Mary in the show's upcoming Season 4, Dockery assured fans that her character "hasn't moved on that quickly" and that she will mourn Matthew properly. "The predicament that Mary's in now is that she does need to find someone eventually," Dockery explained to the LA Times. "She has the heir to Downton, she has baby George and she is under pressure to find someone. In that world, women had to find someone. It was all about marriage and who you'd spend the rest of your life with."
As fans know, Lady Mary will have no shortage of suitors in Season 4. "She's an eligible bachelorette," Dockery told the LA Times. "It's exciting. We've got some great actors joining the show."
"While it would be great for drama, I don't think it would be right for those two," Leech told TV Guide. "As much as they respect each other, they come from very different worlds."
Two characters who won't be a part of "Downton Abbey" Season 4, however, are, of course, Dan Stevens and O'Brien (Siobhan Finneran). "I signed up to do three series and that was all I wanted to do," Finneran explained to the Daily Mail. "I had great fun doing it but I just didn't want to do it any more. I decided this before we even did the last series. When I stop loving something, I stop doing it."
FOLLOW HUFFPOST