Jessica Simpson In 'A Chorus Line': Star Sings 'Music And The Mirror' In High School Production (VIDEO)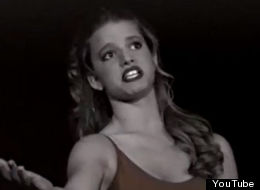 Remember when Jessica Simpson was known for her voice rather than her baby bump or her inability to discern tuna from chicken?
There was a time when Simpson was actually known for belting out tunes, which is why we were pretty psyched when the 32-year-old tweeted a vintage video of herself performing the song "Music and the Mirror" from the musical "A Chorus Line."
The ultimate #tbt youtu.be/MCHy7vUwhFQ

— Jessica Simpson (@JessicaSimpson) May 30, 2013
Her performance in the high school production is pretty impressive (also, who knew she could dance like that?), which is why it's not too surprising that Simpson hit it big with her song "I Wanna Love You Forever" just a few years later.