We wouldn't want to get on this bride's bad side!
Maggi Clarke channeled her inner Sith Lord at her May 2013 wedding by putting the groomsmen in a Force choke a la Darth Vader. Check out the awesome photo below: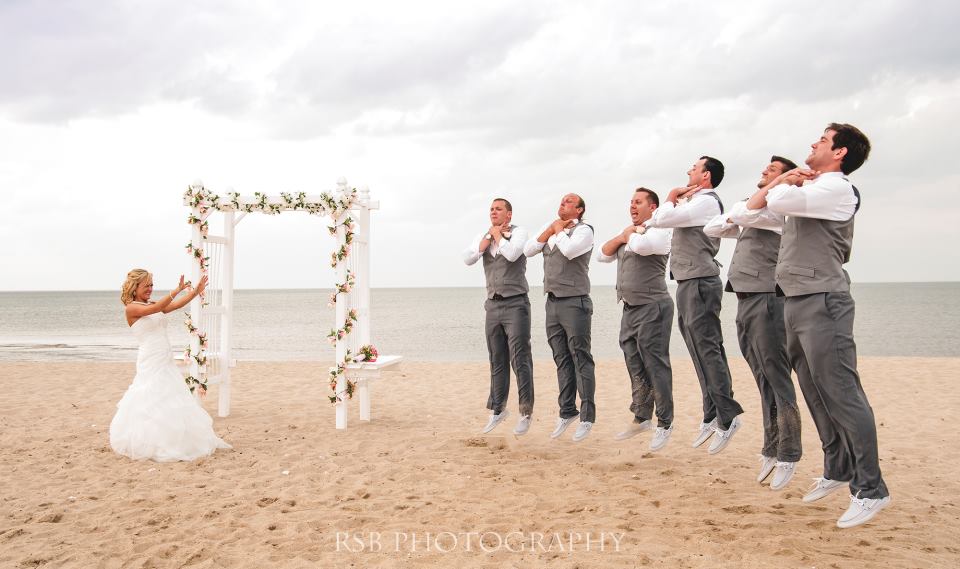 Photo by Ryan S. Burkett
Photographer Ryan S. Burkett told The Huffington Post that the idea to take the "Star Wars"-inspired photo came from the groom, Rob Clarke, who had taken a similar photo with his best man on his cellphone earlier that week .
"I'm a huge 'Star Wars' fan and I had never done one so it did seem fitting." Burkett said. "They were a great couple and this seemed to fit the playfulness of them."
It took the group seven tries before they got the perfect jumping, mid-air shot.
But Burkett and the Clarkes aren't the first people to recreate this famous movie scene. In April 2013, a "Vadering" Internet meme began gaining popularity among "Star Wars" devotees, who shared photos of themselves using "The Force" to lift "victims" off the ground.
Click through the slideshow below for eight more "Star Wars" weddings and proposals.
Loading Slideshow
R2D2 Engagement Ring

A New Jersey tattoo artist proposed to his girlfriend with a <a href="http://www.huffingtonpost.com/2012/11/12/r2d2-engagement-ring_n_2119826.html">custom-made ring</a> that <a href="http://blog.custommade.com/portfolio/r2d2-engagement-ring/">really does look like</a> everyone's favorite droid, R2D2.

30 Rock's Liz Lemon Dresses As Princess Leia

After years of bad dates and even worse boyfriends, "30 Rock" heroine Liz Lemon finally got hitched in November -- dressed as her <a href="http://www.huffingtonpost.com/2012/11/30/30-rock-liz-lemon-gets-married-video_n_2216373.html">favorite princess</a>, Princess Leia.

"Star Wars" LEGO Proposal

In November, a Reddit user <a href="http://www.reddit.com/r/pics/comments/13xqy4/as_a_selfconfessed_nerd_i_proposed_to_my_fiance/">posted photos</a> of the ring box he presented to his girlfriend when he proposed. Inside the box were two "Star Wars" figurines, one holding an engagement ring.

Princess Leia And Han Solo Wedding Cake

Cake decorator Lisa Seidling <a href="http://www.cakeswebake.com/photo/star-wars-themed-wedding-cake?commentId=4635016%3AComment%3A1041665&xg_source=activity">shared this photo</a> of a "Star Wars"-themed cake she designed, and we think it's adorable. That's Princess Leia and Han Solo as the bride and groom -- may the force be with them!

Flash Mob Proposal

May 4 is known to "Star Wars" fans as "May The Fourth Be With You," a day to celebrate the Galactic Empire. One California man <a href="http://www.huffingtonpost.com/2012/05/07/star-wars-flash-mob_n_1497686.html">organized a flash mob</a> of costumed dancers to surprise his girlfriend on this special day. In Yoda-speak, "Yes, she said!"

Ukrainian Wedding

This Ukrainian couple's wedding was pretty intense. Many of the guests wore intricately detailed "Star Wars" costumes, and <a href="http://thechive.com/2009/08/21/this-star-wars-wedding-is-perfectly-normal-not-weird-at-all-22-photos/">judging by the photos</a>, they all wandered around town after the wedding.

"Star Wars" Convention Proposal

What better place to pop the question to your "Star Wars"-obsessed girlfriend than at a "Star Wars" convention? In 2005, this young Jedi <a href="http://www.youtube.com/watch?v=qRmb7Spbk3c">proposed in front of dozens of fans</a> at the Celebration III "Star Wars" festival in Indianapolis.

"Star Wars"-Themed Wedding

Everything from the music to the flower girls fit with the "Star Wars" theme of this couple's 2010 wedding, shared by <a href="http://offbeatbride.com/2011/05/australian-star-wars-wedding">The Offbeat Bride</a>. An R2D2 projector acted as the ring bearer, all guests wore costumes and the wedding party walked down the aisle to John Williams' score.
Keep in touch! Check out HuffPost Weddings on Facebook, Twitter and Pinterest.
Earlier on HuffPost: