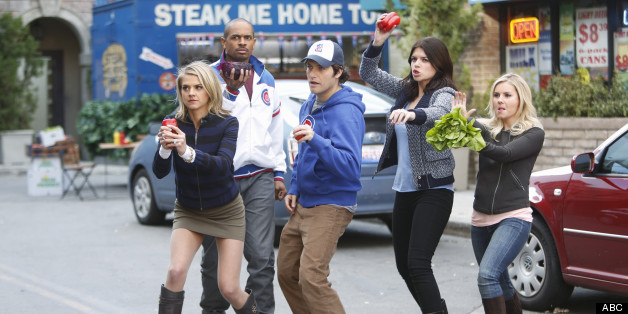 There won't be any "Happy Endings" for USA Network.
A source confirmed to The Huffington Post that "Happy Endings" will not move to USA for a fourth season. Deadline first reported that USA and Sony Pictures Television officially ceased talks to bring "Happy Endings" over after the show was canceled by ABC.
Before ABC axed the cult-hit comedy, talk of USA saving it emerged and Deadline reports the network entered talks immediately after ABC canceled the series. However, while the two parties have confirmed there were talks, no deal was made in the weeks following ABC's official cancellation of the comedy.
After publicly supporting "Happy Endings," ABC honcho Paul Lee said, according to EW, "I do think 'Happy Endings' is absolutely on brand. What we found was it was just too narrow. It was a very hard decisions because, as you know, I love that show and I found it very hard to make that decision. On the same token, I think 'Super Fun Night' and 'Mixology' are broader shows that will bring in a wider audience. So: Hard decision, not happy at all to see it go, but we feel it was on brand and so is ['Super Fun Night'] and 'Mixology.'"
Would you follow "Happy Endings" to a new home? Tell us in the comments.
2013 Renewal Index: Canceled, Renewed & On The Bubble Shows
SUBSCRIBE AND FOLLOW
Get top stories and blog posts emailed to me each day. Newsletters may offer personalized content or advertisements.
Learn more