Crumble, Cobbler And Crisp Recipes (PHOTOS)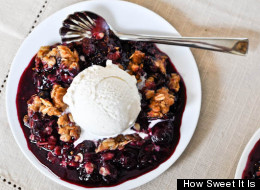 If you want to make a homemade dessert but don't have a ton of time on your hands, crumbles, cobblers and crisps are the way to go. They have the comforting taste of a made-from-scratch dessert, are filled with naturally sweet and tender fruit, finished off with a golden-brown topping and are incredibly simple to make -- what more could you want from a dessert?
And since crisp, crumble and cobbler recipes only take 10 minutes of prep work -- the rest of the magic happens in the oven -- it frees you up to tend to more pressing matters, like enjoying the warm weather (and keeping out of the hot kitchen).
Want to read more from HuffPost Taste? Follow us on Twitter, Facebook, Pinterest and Tumblr.
Crisps, crumbles and cobblers
Get the Rhubarb & Strawberry Cobbler recipe by Verses From My Kitchen

Get the Double Corn-Blueberry Cobbler recipe

Get the Black Plum & Ginger Crumble recipe by Verses From My Kitchen

Get the Cast-Iron Skillet Apple Crisp recipe by Buns In My Oven

Get the Balsamic Blueberry Crisp recipe by How Sweet It Is

Get the Plum Cobbler recipe

Get the Strawberry & Plum Crumble recipe by Verses From My Kitchen

Get the Crockpot Caramel Apple Crumble recipe by How Sweet It Is

Get the Ginger Berry Crisp recipe

Get the Pomegranate Pear Crumble Cups recipe by How Sweet it Is

Get the Strawberry Kiwi Crisp recipe by How Sweet It Is

Get the Mixed Berry Crumble recipe

Get the White Peach Cardamom Crumble recipe by How Sweet It Is

Get the Strawberry Pistachio Crumble recipe by A Spicy Perspective

Get the Black Currant Plum Crisp recipe

Get the Rhubarb Crisp recipe

Get the Plum Betty recipe

Get the Peach, Rhubarb and Ginger Crisp recipe

Get the Sour Cherry-Fruit Slump recipe

Get the Pear and Apple Crisp with Oat Streusel recipe

Get the Blueberry Crumble recipe