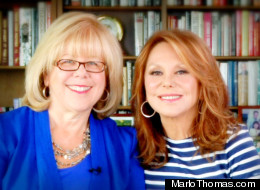 Friendships can be such a rewarding part of our lives -- our friends provide comfort, encouragement, companionship and so much more. Some friendships last even longer than marriages! This week, I spoke to friendship expert Dr. Irene Levine on Mondays With Marlo about the dynamics of friendship. We chatted about everything from traveling with friends to dealing with friendship woes to breaking up with a friend. She had such fabulous insight! Don't miss Dr. Levine's expert advice.
For more on nurturing and building the friendships in your life, see Dr. Levine's friendship tips:
Dr. Irene Levine's Friendship Tips
Sometimes it's hard to know when a friendship is broken beyond repair. If you feel uncomfortable, find yourself avoiding the person, are bored when you're together or experience a visceral reaction like headaches or stomachaches, it may be time to cut ties. Don't ignore the signs – but you also shouldn't give up on the friendship too soon. Once you end the friendship, it's hard to go back.

It can be very difficult to end a friendship – after all, this is someone who you care about. The best way to slowly break away is to dilute the relationship – see the friend less often, socialize in groups and don't initiate too much contact. Establish distance and your friend will most likely notice the signals.

Politics, money and religion can be friendship killers. When two people have very different viewpoints on these sensitive topics, they should agree that they're off-limits. If one of these things is a big part of your life, it may not be possible to sustain a relationship with someone who holds different beliefs.

If you're seeking new friends, get out and pursue your interests! No one is more attractive to others than someone who is engaged in life. Whether you join a gym, take an art course, sign up for dancing lessons or volunteer at a nonprofit, find something that stirs your passions and places you in regular contact with the same people week after week. Friendships will follow.

Oftentimes, when women begin a new romantic relationship, they have less time for their friends. Fortunately, most women realize that it's important to maintain their female friendships. Acknowledge that your friend may not have as much time or interest to spend on your relationship at the moment. Adapt to the situation – plan to spend shorter periods of time together or make a standing date to chat once per month. As time goes on, your friend may achieve a better balance and have more time to spend with you.

As time goes on, you may have less in common with old friends, but don't let your relationships fall by the wayside. You may not have anything in common currently, but you do have a shared history. Sometimes it's nice to get together with friends who knew your parents when they were alive or know the block you grew up on. It doesn't have to be all or nothing – you can make it a more distant relationship by seeing each other once per year at reunions or staying in touch on the Internet.

Sometimes, friends bow out without an explanation. Often, their reasons have nothing to do with your friendship – they could be dealing with an illness that has a stigma or handling children with emotional problems. Reach out and see if you can figure out what's going on. If your friend doesn't want to talk, respect their desire for privacy.

Don't be embarrassed about being lonely or friendless. You're certainly not the only one. Moreover, don't let shame or embarrassment stop you from reaching out to new friends. Otherwise, your friendlessness will become a vicious cycle.

If you have a friend who keeps you waiting or uses you to do her bidding, you need to speak up for yourself. Set limits by communicating how your friend's behavior affects you and provide a solution. Tell your friend to call you if she's running late, and that you will only wait 10 minutes before leaving if you don't hear from her.

Traveling with friends can be challenging, but it can also be a wonderful adventure. First and foremost, you should never go on a trip with someone that you can't stand having lunch with. Plan your destination together and talk very honestly about budget, dining, accommodations and activities. The planning process is just as important as the trip.

If you have a friend who is going through something difficult, like a drug addiction or domestic violence, it's important to be there for them, even if you don't agree with their decisions. Give your friend resources and be supportive. Try to be there when they have the strength and courage to make the changes they need to. Try to hang on -- you could be one of the few ties your friend has left.

Many adults have the mistaken impression that everyone else is already paired up, and no one else is looking for new friends. In fact, many people are open to new friendships and contrary to the myth perpetuated by popular culture, most friendships don't last forever. Thus, you need to continually replenish your "stock" of friendships.
Add Marlo On Facebook:
Follow Marlo on Twitter:

Weekly Newsletter

Sign up to receive my email newsletter each week - It will keep you up-to-date on upcoming articles, Mondays with Marlo guests, videos, and more!

Sign up here