What would the ideal female celebrity look like?
Kind of terrifying, if this image is anything to go by.
MSN News reports that British supermarket chain Morrisons surveyed 1,000 male and 1,000 female customers about their favorite celebrity body parts. And the resulting composite image just looks... wrong.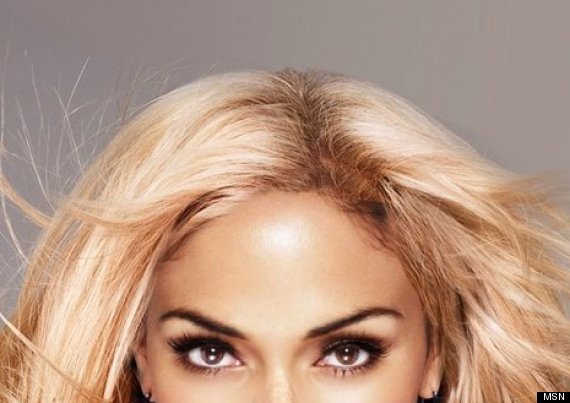 (Click through to MSN to see the full image.)
The body parts that make up this frightening face include Pussycat Dolls singer Nicole Scherzinger's eyes, Welsh singer Katherine Jenkins's hair and Prime Minister's wife Samantha Cameron's nose.
Previous versions of the "ideal woman" have looked equally bizarre. In January 2012, British beauty website FeelUnique.com asked 9,350 shoppers which celebrity body parts they coveted most highly. It turns out that mixing Kiera Knightly's cheekbones with Angela Jolie's lips, along with features from Kate Middleton, Megan Fox and Gwyneth Paltrow, doesn't work particularly well.
The Morrisons survey asked customers about male body parts as well, finding that the ideal man would have Ryan Gosling's smile, Brad Pitt's jaw, Daniel Craig's eyes, and a body like David Beckham and racecar driver Jenson Button combined. We wonder how weird a Photoshop composite of that might look.
Also on HuffPost:
Loading Slideshow
Lady Gaga

After the media focused on her <a href="http://www.usmagazine.com/celebrity-body/news/lady-gaga-shows-off-25-pound-weight-gain-in-tight-outfit-2012229">alleged weight gain</a> in September 2012, Gaga hit back at critics by baring her body in photographs, sharing her struggles with an eating disorder, and inviting her fans to join her in a <a href="http://www.forbes.com/sites/melaniehaiken/2012/09/26/lady-gaga-puts-bulimia-and-body-image-on-the-table-in-a-big-way/">"body revolution."</a>

Adele

Adele says she <a href="http://www.cbsnews.com/8301-504803_162-57376080-10391709/adele-talks-about-her-body-image-and-weight/">tries not to worry</a> about her body image and doesn't want to be a "skinny minnie." "The first thing to do is be happy with yourself and appreciate your body -- only then should you try to change things about yourself."

Rebel Wilson

The actress <a href="https://twitter.com/RebelWilson/status/253324823005118465">took to Twitter</a> to say, "I'm not trying to be hot. I'm just trying to be a good actress and entertain people."

Ashley Judd

After the March 2012 frenzy around Judd's "puffy face," the actress fought back in <a href="http://www.thedailybeast.com/articles/2012/04/09/ashley-judd-slaps-media-in-the-face-for-speculation-over-her-puffy-appearance.html">The Daily Beast</a>, calling the media out for making women's bodies "a source of speculation, ridicule, and invalidation, as if they belong to others."

Allison Tate

Tate's <a href="http://www.huffingtonpost.com/allison-tate/mom-pictures-with-kids_b_1926073.html">essay</a> about body image and motherhood not only broke the Internet; it has sparked a movement of "moms who stay in the picture."

Autumn Whitefield Madrano

On her informed, thoughtful blog <a href="http://www.the-beheld.com/">"The Beheld,"</a> Autumn writes about beauty, body image, appearance and her two -- that's right, <em>two </em>-- mirror fasts.

Kjerstin Gruys

Gruys went on a year-long<a href="http://www.ayearwithoutmirrors.com/"> mirror fast</a> during which she did not study her reflection in mirrors or other reflective surfaces, or look at photographs of herself.

Christina Aguilera

"I am always in support of someone who is willing and comfortable in their own skin enough to embrace it," the singer said in a<a href="http://www.ianslive.in/index.php?param=news/Aguilera_wants_to_empower_women-389922/ENTERTAINMENT/15"> recent interview</a>.

Lena Dunham

At the 2012 New Yorker Festival, the magazine's TV critic, Emily Nussbaum, asked Lena Dunham, producer, creator and star of the hit HBO show "Girls," why <a href="http://www.huffingtonpost.com/2012/10/08/lena-dunham-new-yorker-festival-emily-nussbaum_n_1948596.html?utm_hp_ref=women&ir=Women">Dunham is naked in so many scenes</a>. Dunham responded, "I realized that what was missing in movies for me was the presence of bodies I understood." She said she plans to live until she is 105 and show her thighs every day.

Alexa Chung

Chung <a href="http://fashionista.com/2012/10/alexa-chung-on-her-upcoming-line-and-struggling-with-body-image/2/">responded to critics</a> who suggested that her slight frame made her a bad role model for young women, saying: "Just because I exist in this shape doesn't mean that I'm, like, advocating it."

Stella Boonshoft

The NYU student started the amazing <a href="http://thebodyloveblog.tumblr.com/">Body Love Blog</a>, where she posted this picture of herself and wrote an <a href="http://www.huffingtonpost.com/stella-boonshoft/self-portrait-ask-me-why-_b_1987406.html" target="_hplink">open letter to those who feel entitled to shame others</a> for the size or look of their bodies.

Beth Ditto

This 5-foot-tall, 200-pound singer spoke openly about her weight to <a href="http://www.huffingtonpost.com/2012/11/01/beth-ditto-talks-skinny-privilege-fiancee-body-image_n_2057290.html?utm_hp_ref=women&ir=Women">The Advocate</a>, saying, "I feel sorry ... for people who've had skinny privilege and then have it taken away from them. I have had a lifetime to adjust to seeing how people treat women who aren't their idea of beautiful and therefore aren't their idea of useful, and I had to find ways to become useful to myself."