Cute Panda Cookies Melt Our Hearts (PHOTO)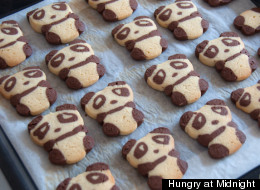 Some things we bake because they're delicious -- like crepe cakes -- and others because they're just so damn adorable. When it comes to panda cookies, its definitely all about the cuteness. They could taste like dust, and we'd still bake them. (But don't worry, they don't; these panda cookies have looks and taste going for them.)
If there's one thing that's immediately apparent, it's that panda cookies are no simple cookie. You're not going to whip these up in a flash like you would a chocolate chip cookie. They require time, patience and creativity. But if you have all that, you'll be well rewarded with what just might be the most aww-inducing cookie in existence (yes, we mean aww instead of awe). We found this sweet panda cookie recipe on the food blog Hungry at Midnight, and it has made our lives just a little bit better.
Want to read more from HuffPost Taste? Follow us on Twitter, Facebook, Pinterest and Tumblr.
Check out these other cookie recipes.
While these cookies may require an extra step than most chocolate chip cookie recipes, it's well worth your time and effort. Sandwiching freshly baked cookies with chocolate ganache is possibly the best way to enjoy this type of cookie. Get the Ganache-Stuffed Chocolate-Chip Cookies recipe

As rich and chocolatey as the fudgiest of brownies, yet with the texture of a perfectly moist cookie, this recipe is for those of us who can never get enough chocolate. Get the Chocolate-Chocolate Cookies recipe

Peanut butter and chocolate is a combination that has won over millions. Adding the sugary richness of a cookie makes this a sure-fire hit for any occasion. Get the Salted Chocolate Chip Peanut Butter Cup Cookies recipe

The combination of salty and sweet is one that's hard to resist. And when you add buttery, melt-in-your-mouth cookie to that mix you know you've found a winning cookie. Get the Salted Shortbread Cookies recipe

Austria is well known for its rich pastry culture, and these Austrian cookies are a great representation of that. The double dose of chocolate makes this cookie a sure winner. Get the Chocolate Krapferln recipe

The double-chip cookie calls for one part chocolate chips and one part potato chips. Two of our favorite foods mixed together in a cookie -- this is a trend we hope is here to stay. Get the Double-Chip Cookies recipe

You're not stuck with the slightly stale, overly sweet fortune cookie from the Chinese takeout restaurant, you can make your own fortune cookie with this recipe. Get the Green-Tea Fortune Cookies recipe

There's more to a waffle iron than churning out breakfast waffles, you can use them to make these chewy chocolate cookies too. Get the Boot Tracks recipe

Thumbprint cookies are slightly chewy and totally delicious. Plus, you can customize them, filling them with your favorite type of preserves, such as raspberry, strawberry or apricot. Get the Thumbprint Cookies with Jam recipe

This recipe makes a cookie that tastes like pecan pie; it doesn't really get much better than that. Get the Double Nut and Date Tassies recipe

These cookies include rich dark chocolate, flaked coconut, and pecans. Their chewy texture is like a cross between coconut macaroons and French egg-white macarons. Get the Chocolate And Pecan Macaroons recipe

These Viennese-style cookies have a tender texture from ground almonds and are sandwiched together with apricot jam. Get the Viennese Cookies recipe

Oats, chopped nuts and very little whole-wheat flour create these flat, crisp lace-like cookies. Sandwich together two cookies by spreading one half with melted chocolate and the other with apricot preserves. Get the Dark Chocolate-Filled Florentines recipe

These cakey chocolate cookies are filled with light and creamy whipped cream. You'll never want to go back to the original version after trying these. Get the Whoopie Pies recipe

These beautiful shortbread cookies are unbelievably easy to make and so, so good. Savor with warm tea or creamy hot chocolate. Get the Shortbread recipe

Ground walnuts give these pretty little crescent cookies a satisfying, nutty crunch, and powdered sugar makes them pretty and sweet. Get the Walnut Crescents recipe

These odd-shaped cookies, which translate from Italian to ugly but good, are very popular in Italy. Made with hazelnuts and egg whites, they're delightfully light and nutty. Get the Brutti Ma Buoni recipe

Peanut butter and crunchy walnuts make these buttery date cookies rich and seductive. Get the One Nutty Date recipe

Thumbprint cookies are an old-fashioned treat. Here, they're reinterpreted with walnut oil and whole-wheat pastry flour a healthier treat -- and, of course, with chocolate, simply for the taste. Get the Chocolate Thumbprint Cookies recipe

Macadamia nuts add a hint of Hawaiian flavor to these chewy white chocolate cookies. Get the White Chocolate Macadamia Nut Cookies recipe

This chocolate graham cracker is just the right amount of crunchy and crispy -- and it has a little spice too, thanks to the addition of ancho chile powder. Get the Chile-Cocoa Graham Crackers recipe

Some call these angel wings others refer to them as elephant ears. But regardless their name the light, lemony flavor of these treats is, well, divine. Get the Lemon Angel Wings recipe

This recipe is not the one you turn to if you want a cookie in a hurry. No, this cookie requires time and patience. But if you want a chocolate-chip cookie that is full of chocolate flavor, this is the recipe you're looking for. Get the Thousand-Layer Chocolate Chip Cookies recipe

Meringue makes a nice, airy dessert -- making it easy to generously dip them in rich bittersweet chocolate. Get the Chocolate-Dipped Meringues recipe

The star ingredients in these sweet, nutty cookies are ground toasted almonds and fragrant almond extract complemented by fruity strawberry jam. Get the Almond Macaroons recipe

These chocolate cookies have everything going for them. They're chewy and loaded with chocolate chips and dried cherries. Use an ice cream scoop to make the dough easier to drop onto baking sheets. Get the Chocolate-Chocolate Cherry Cookies recipe

A heavenly sweet maple filling makes these scrumptious spritz cookies a little different. The secret to their ornate shape is to make them in a cookie press. Get the Browned-Butter Sandwich Spritz recipe

Every home cook should have a go-to chocolate chip recipe they can turn to in a pinch. If you don't have one yet, this may just be the recipe to take that role. Get the Milk & Cookies Bakery Classic Chocolate Chip Cookies recipe

These cookies have a bright, zesty filling and spicy aroma. They're convenient because you can make the logs of cookie dough ahead, then pull them out of the freezer and slice and bake as you need. Get the Cranberry-Honey Spice Pinwheel Cookies recipe

Feel free to swap walnuts or almonds for the pecans in this recipe, or use half nuts and half dried cranberries for a tart, chewy version. Get the Chocolate-Chip-Pecan Cookie Bars recipe

Thanks to a dusting of icy blue and white sanding sugar, these classic cookies glisten like freshly fallen snow. Get the Mexican Snowdrop Cookies recipe

Hard candies melt into dazzling colors in these sugar cookies, creating beautiful and edible stained-glass "windows." Get the Stained Glass Sugar Cookies recipe

The tops of these elegant cinnamon walnut crescents are laced with stripes of bittersweet or semisweet chocolate. Get the Cinnamon, Brown Sugar and Walnut Shortbread Crescents recipe

Taking just 10 to 12 minutes in the oven, these spicy ginger cookies will be ready before you know it. They're slightly soft and chewy. Get the Ginger Crinkle Cookies recipe

Even if you're a chocolate chip cookie lover, you won't be able to resist these citrusy, lemon cookies. Their bright flavor is addictive. Get the Lemon Slice-and-Bake Cookies recipe

Crisp, moist and chewy, this cookie has all the essential ingredients of a top-notch treat: citrus, nuts and fruit. Get the Cranberry Orange Nut Cookie recipe

Pecans add a hint of nuttiness to this sugary cookie. Spiced with cinnamon, this wafer is a great addition to a cup of tea. Get the Pecan-Cinnamon Wafers recipe

Biscotti are one of the best cookies to make in large quantities because they last a long time and will guarantee you always have a sweet treat at the ready. These cranberry-pistachio ones are divine. Get the Cranberry-Pistachio Biscotti recipe

These fragrant golden-brown biscotti are infused with aniseed, the defining flavor in many other Italian desserts. Get the Aniseed Biscotti recipe

You can fill these vanilla-scented Italian mezzaluna ("half moon") cookies with sweet raspberry or blackberry jam. Get the Jam-Filled Mezzaluna Cookies recipe

These light and airy meringue cookies use three extracts (coconut, almond and vanilla) to give it a full flavor. For a finishing flair, decorate them with melted semisweet chocolate and white chocolate, piped across each cookie. Get the Chocolate Coconut Meringues recipe

Chocolate and peanut butter make a fantastic pairing. These cookies get a double dose of peanut flavor from peanut butter and peanut butter chips. Get the Double Peanut Butter-Chocolate Chewies recipe

You can't go wrong with these classic baked goodies: rich, buttery sugar cookies with a pop of cinnamon. Get the Snickerdoodles recipe

The name says it all. These cookies are dangerously rich with a triple dose of chocolate from cocoa powder, grated bittersweet chocolate and cocoa nibs. Pecans add a rocky crunch. Get the Lava Rocks recipe

No one will guess that these sweet, fruity cookies are made with healthy whole-wheat flour. Get the Whole Wheat Linzer Cookies with Raspberry Filling recipe

Chocolate biscotti will make everyone happy. It has enough of a chocolatey flavor to make the most avid chocolate lover happy, but isn't so rich that a non-chocolate supporter can't enjoy it. Get the Double-Chocolate Biscotti recipe

If you're looking to lower your wheat intake, replacing all-purpose flour with spelt is a good option. This recipe uses half wheat and half spelt flour -- and still has a great taste and soft, chewy texture. Get the Spelt Flour Chocolate Chip Cookies recipe

Buttery sugar cookies are delightful, with or without icing. Kids love to help cut them out with cookie cutters and decorate them with sprinkles. Get the Sugar Cookies recipe

Honey is the perfect foil for the orange and lemon zest in these buttery cookies. Get the Citrus-Kissed Honey Buttons recipe

Contrary to this recipe's name, there are no plums in this fruitcake-inspired recipe, but you will find sweet, chewy raisins and citrusy orange zest. Get the Sugarplum Biscotti recipe

Chocolate and cherries go well together, and so do chocolate and raspberries! Get the Raspberry-Chocolate Thumbprint Cookies recipe

These Italian cookies are baked with hazelnuts and eggs. They have a sweet, nutty flavor that goes perfectly with rich espresso. Get the Italian Hazelnut Cookies recipe

Applesauce keeps these cookies light and moist, while orange zest, cinnamon, cloves and allspice give them a knock-out flavor. Get the Orange Spice Molasses Cookies recipe

Looking for a healthy chocolate-chip cookie recipe? This one is a winner. It uses oats and whole-wheat flour in place of white all-purpose. Get the EatingWell Chocolate Chip Cookies recipe

A tasty cookie made with whole wheat flour and no butter? Believe it! The secret to these pumpkin cookies is rich, gooey molasses and spices like allspice and nutmeg -- not to mention a hint of ginger. Get the Spiced Pumpkin Cookies recipe