Our friends at Pop Chart Lab have done it again. They've taken a pretty basic food subject, like coffee, compiled a bunch of information on it and turned it into a poster that we actually really want to hang on our wall. We're not sure how they get this done, but we're impressed that they did.
This time the subject of their poster art infographic is fruit and all its varieties. You'll be amazing at how many different kinds there are. While you probably haven't tried even a fraction of them -- like the pigface (yes, this is an actual fruit) -- we think you should at least know they exist. If not for help with finishing crossword puzzle, at least to be able to follow the jokes on Portlandia.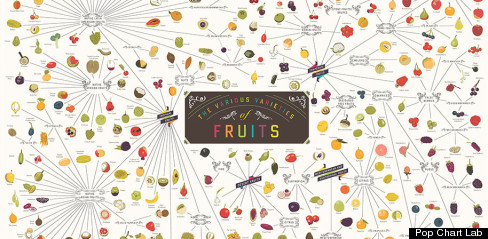 Click on the poster for a zoomed in view.
If you're interested in this 39" x 27" poster for some new kitchen art you can get it at Pop Chart Lab on sale for $36. Or, you can tell us what your favorite fruit is in the comments below for a chance to win a free one (by 6 p.m. on June 5).
Want to read more from HuffPost Taste? Follow us on Twitter, Facebook, Pinterest and Tumblr.
Now that you can identify all types of fruit, you should bake with them.
Get the Baked Summer Fruit Bundles recipe Baking summer fruit in parchment packets brings out their aromas and sweet flavors. In this recipe raspberries, blueberries, blackberries, peach and nectarine are combined with vanilla and wine.

Get the Meringue Nests with Roasted Rhubarb and Strawberry Sauce recipe These billowy meringue nests are filled with roast rhubarb and freshly pureed strawberry sauce. Make an indentation in each nest so the fruit can fit.

Get the Baked Apricots recipe from A Wee Bit of Sugar White wine and lemon thyme flavor these baked apricots as tehy bake. Use the fruit to top desserts like almond cake or ice cream.

Get the Parfait of Spice-Roasted Pineapple with Frozen Yogurt recipe Spiced and baked pineapple is fine on its own, but when you turn it into a layered yogurt parfait that's when it really becomes a dessert.

Get the Roasted Peaches with Mascarpone Ice Cream recipe A syrup of white wine, honey and rosemary adds so much flavor to the peaches while they roast. Seve the fruit with a homemade mascarpone ice cream.

Get the Honey-Lavender Plum Gratin recipe This pretty dessert has wedges of red plums baked in a lavender-infused custard. It's then broiled with a sprinkling of sugar to caramelize the fruit.

Get the Roasted Strawberries recipe from Simple Bites Forget the jarred strawberry ice cream topping. Roast your own strawberries and use them to create the best sundae ever.

Get the Caramelized Pineapple Cake recipe This cake is no cake at all but layers of pineapple slices stacked in a round pan, poured over with verjuice and baked. Serve with ice cream.

Get the Roasted Cherry Compote from Wabi Sabi blog Use this roasted cherry compote to swirl into ice cream or serve it alongside cheesecake.

Get the Roasted Peach Sundaes recipe Pair any roast fruit, especially peaches, with ice cream (or frozen yogurt) and you've got a great dessert. Top with crumbled gingersnap cookies to make it a sundae.

Get the Meringue-Topped Strawberries and Rhubarb recipe Instead of poaching the rhubarb and strawberry mixture on the stove, this recipe has you bake it in ramekins so you can skip a step. Top with meringue and continue baking until pale brown.