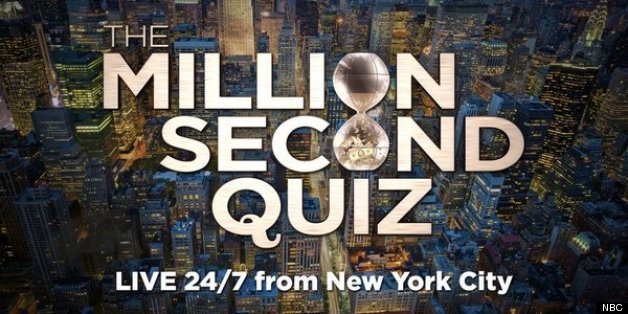 "The Million Second Quiz" will take over NBC starting Monday, Sept. 9. The new 24/7 game show will air live from a gigantic hourglass-shaped structure in Manhattan.
"The Million Second Quiz" features contestants "test[ing] the limits of their knowledge, endurance and will" as they compete in trivia contests over 12 days. The show continues through Saturday, Sept. 14 at 8 p.m. ET and then resumes on Monday, Sept. 16 at 8 p.m. ET. "Million Second Quiz" will continue to air each night through the finale on Thursday, Sept. 19.
Contestants, who are hoping to win the ultimate cash prize of $1 million or more, will live in the hourglass structure and must continue playing the game 24-hours a day to avoid being unseated for the primetime airing.
Viewers will be able to play along at home and win the chance to appear on the show in primetime. NBC affiliates will also be able to interact with the players live throughout the day.
"'The Million Second Quiz' is a genre-redefining spectacle." Paul Telegdy, president of alternative and late night programming at NBC Entertainment, said in a statement when the show was announced. "It is a game, a social experiment, and a live interactive event all wrapped into a uniquely sticky entertainment experience. What is exceptional about 'The Million Second Quiz' is that it embraces technology's ability to allow everyone in America to actively participate and compete in a way that has never been done."
"The Million Second Quiz" premieres on NBC on Monday, Sept. 9 at 8 p.m. ET.
SUBSCRIBE AND FOLLOW
Get top stories and blog posts emailed to me each day. Newsletters may offer personalized content or advertisements.
Learn more