We recently wrote about our six favorite front door colors. But did you know that the hue you choose says a lot about your unique personality?
For example, national color expert of Sensational Color, Kate Smith said, "An entry door painted a bold shade of orange says 'I'm friendly, fun-loving and enjoy getting together with people' so that's the color for an extrovert -- and perhaps not the best choice for someone who has a more reserved personality." Hmmm... good thing repainting your entry is usually a quick DIY.
Scroll through and find out what your front door shouts to the world about you.
1. Red: Just like you'd probably guess, this hue tells the world to "look at me!" Red is a bold choice for those who are not afraid of standing out on the block.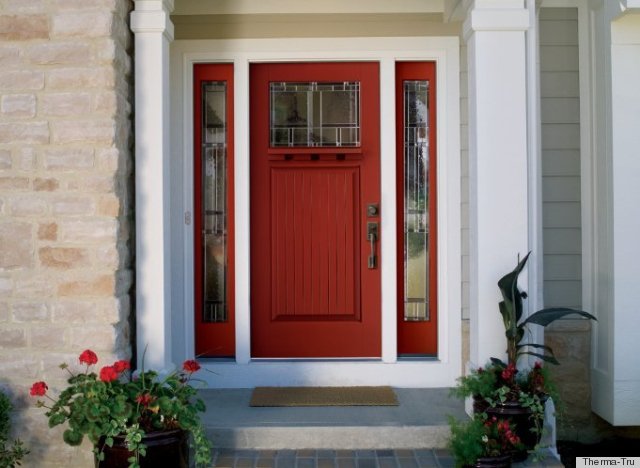 Classic Craft Canvas door from Therma-Tru
2. White: A crisp white door is for those who are (or would like to be) organized, neat and clean.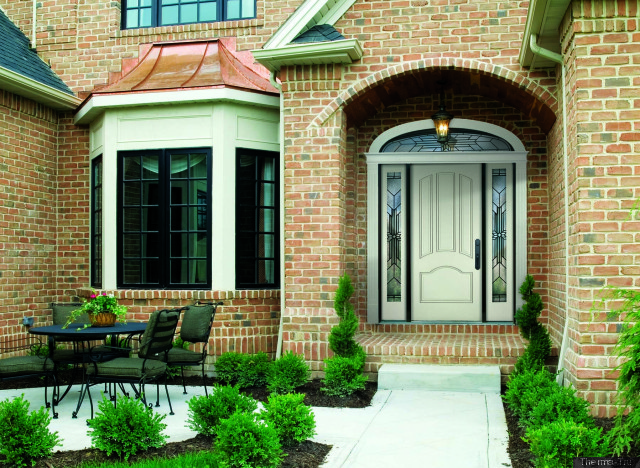 Classic Craft Canvas Collection from Therma-Tru
3. Green: If your door is green, you care about your home and your community and you have more traditional values.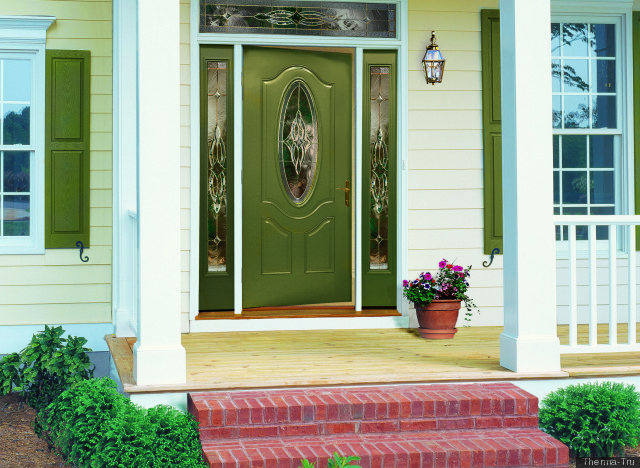 Smooth-Star door with Wellesley glass from Therma-Tru
4. Black: This is a timeless look, and you don't waiver for trends. You're consistent, conservative and reserved.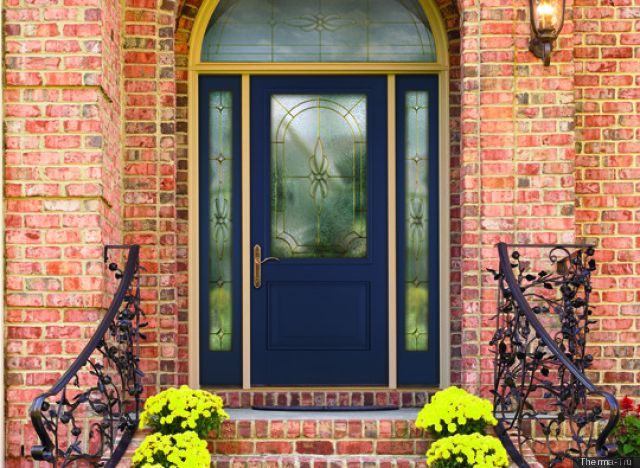 5. Blue: You have an easy go-with-the-flow personality and people flock to you.
6. Yellow: If you choose this sunny hue, you're most likely a leader of the pack.
7. Purple: You're comfortable taking risks and dreaming big. Some may call you a "free spirit."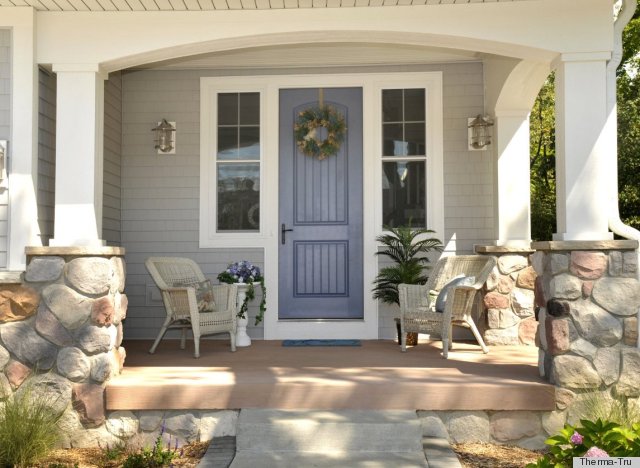 For even more front door inspiration, check out our slideshow below.
Surprisingly, this taxi yellow isn't as shocking as it may seem in theory. Indeed vibrant, it lends the perfect amount of color to an otherwise boring building. Flickr photo by Kieran Lynam

Maybe it's the bold red-painted double doors, the vast collection of greenery, or a combination of both, but we could see this as the entrance to a tropical vacation bungalow. Flickr photo by monkeysox

The olive green door and rich brown hue of the house inspires us to work with a woodsy-inspired palette in the near future. Photo by Kirsten Kapur of Through The Loops

This is the bold door trend in reverse, which is exactly why we love it. Instead of a neutral house and a bold-colored door, this home owner has gone with a red house and taupe-ish door. Genius! Flickr photo by photofarmer

Purple and magenta, this front door definitely makes an eye-catching statement worth stopping to admire. Photo by Julia of Hooked On Houses

This is the first electric blue door we've seen, and we're digging it! It makes you wonder: What kind of fun antics could be happening inside? Flickr photo by alexanderhamdy

An avocado green door looks just right against this cream-colored home. Flickr photo by Kendyl Young

Although the door on the left may be more visually striking, we kind of love the muted grey tone on the door to the right. What do you think? Flickr photo by nick farnhill

Go beachside and breezy with this fresh sky blue-ish hue. Photo by Sarah of A Beach Cottage

What's a cottage door without charming red-orange paint? Seriously, this could be the entrance to Little Red Riding Hood's grandma's house. Flickr photo by IrishFireside

Halfway between sea foam and turquoise green, this door sets a serene mood into what seems like a calm country home. Flickr photo by ClatieK

The bluish grey shade of these thin Parisian double doors is so refreshing yet a little somber. Flickr photo by Joybot

There's something so classic about navy. And, this Sherwin Williams Naval color really brings out the greens in the plants and red hues in the brick walls. Photo by Ann Drake of On Sutton Place

This front entrance used to be white, but we think this Van Courtland Blue from Benjamin Moore looks more inviting and homey. Photo by Jill Marquette of Westbrooke Drive

This Heritage Red-painted door shines bright against the rest of the white colonial-style home. Photo by Amy Chalmers of Maison Decor

Black can be just as striking as bold, bright colors and still feel refined and timeless. Photo by Melissa of 320 Sycamore

We couldn't do this color justice by just showing the door. The lawn and plant life dispersed around the door really complement this green color! Photo by Rachel of Urban Nest
Have something to say? Check out HuffPost Home on Twitter, Facebook, Pinterest, Tumblr and Instagram.
**
Do you have a home story idea or tip? Email us at homesubmissions@huffingtonpost.com. (PR pitches sent to this address will be ignored.)