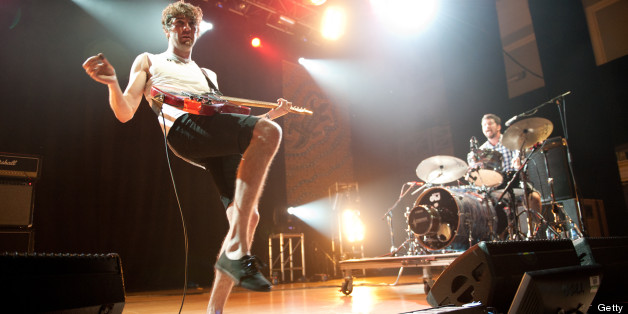 Has the Orion Music + More Festival found a permanent home in the Motor City? After launching last year in Atlantic City, the Metallica-led rock weekend is setting up shop on Belle Isle June 8 and 9. And in keeping with the name and spirit of the event (Orion like the constellation, not Lake Orion the suburb), the two-day lineup is jam-packed with stars of the rock variety.
Fortunately for procrastinators, single-day tickets, two-day passes and VIP packages are still available. Click here for ticket info and FAQs.
Although the main event takes place over the weekend, two alums from the 2012 Orion gathering in Atlantic City will be pounding out their tunes at pre-festival concerts on Friday night. Catch Baroness at St. Andrews Hall or Chevy Metal, featuring Taylor Hawkins of Foo Fighters, at the Majestic. A Saturday after-show will also bring electronic dance musician Dillon Francis back from the island for a special set at the Fillmore. Get more info on Orion after shows here.
And as for the "Much More" tease that appears on every ticket, pro skaters will be performing tricks on a 30-foot vert ramp. Aspiring headliners can try out an assortment of instruments at the ESP guitar tent -- one lucky contest winner will bring home their own high-end axe. Bands will be unusually accessible, appearing in the record shop tent to sign vinyl, albums and memorabilia. Other notable diversions include a selection of food vendors curated by Phil Cooley and a movie pavilion. We're having trouble deciding which of these offerings are more amazing: the steel sphere Globe of Death, which will host motocross stunts throughout the weekend, or an on-site and absolutely real Metallica museum. CAMP Detroit, an arts installation created for Memorial Day weekend's Movement electronic music festival, will also grace the Orion constellation.

(Click here to see a map of this weekend's Orion Music Festival on Detroit's Belle Isle)

It goes without saying that headliners Metallica and Red Hot Chili Peppers are worth the price of admission on their own, but that doesn't mean you should avoid the island until nightfall. We suggest arriving early and expanding your experience beyond the brightest stars of the Orion soundscape -- create your own custom lineup on the Orion festival website.
Japandroids: Rock & roll the way it should be played, joyous and loud. If you haven't seen this Canadian two-piece thrash through their 2012 album, "Celebration Rock," we suggest an outdoor island as the ideal first-time venue. Be warned: these guys bring a storm of enthusiasm to the stage, with no hipster irony allowed. Sunday, 5 p.m. on the Fuel stage.
DEATH: The original Detroit punks, the three Hackney brothers first played R&B, but changed their sound in the '70s after seeing Alice Cooper live. Bonus credit if you take in the doc, "A Band Called Death," which helped bring the almost-forgotten protopunk group back to life. Catch them at the Vans Damage stage on Sunday, 7 p.m.


Gogol Bordello: Straight-up otherworldly rebellion punk. While you don't have to be a gypsy to feel the enchantment at one of their incredible live gigs, the violins and accordions might charm you into abandoning your life for the open road. Oh, and don't even think you can get away with not dancing at this set. On the Fuel stage Sunday at 7 p.m.
Death Grips: For hip-hop heads at the guitar-focused Orion Festival, the rap/noise experimentation of the press-shy and critically-beloved three-piece will be one of the loudest, totally unhinged performances on the island this weekend. This is the act everybody is already talking about. Saturday, 5 p.m. on the Frantic stage.
The Bronx: Whether they're playing punk or mariachi, this sleazy-sounding LA outfit turns out fist-pumping, beer-chugging sing-a-longs with a sound that wouldn't seem out of place on best-of-the-'90s retrospective playlist. And yes, you read that right -- side project Mariachi El Bronx might be unexpected, but it's delivered with the same authenticity as everything else The Bronx records. 2 p.m. Saturday on the Budweiser Orion stage.
The Dirtbombs: Why are The Dirtbombs still so beloved around the Motor City, almost 20 years after they first started recording? Yeah, Kid Rock and Eminem might be our most famous modern-day exports, but Mick Collins and co. fused Detroit's garage rock sound with vocal melodies and basslines straight out of the Motown soul catalog. The songs they ended up with wouldn't sound right in any other city; listening is like taking a comparative-music class on the Detroit experience. 2011's "Party Store" saw The Dirtbombs covering the groundbreaking electronic tracks that put Detroit on the map as one of the world's techno capitals. Sunday at 2:30 p.m. on the Frantic stage.
Michigan Summer Festivals: Music And More For 2013
SUBSCRIBE AND FOLLOW
Get top stories and blog posts emailed to me each day. Newsletters may offer personalized content or advertisements.
Learn more