Last week: wedding dress made out of toilet paper. This week: wedding dress made out of condoms!
Australia's Illawarra Mercury reported Friday that the Illawarra Shoalhaven Local Area Health Service HIV and Related Programs Unit created a wedding dress made entirely of condoms. The dress, on display at the Shoalhaven City Council's Entertainment Centre over the weekend, was designed to raise awareness of a recent increase in chlamydia diagnoses.
See the dress, alongside Shoalhaven councillor Andrew Guile, below (photo by Jessica Long of the Illawarra Mercury):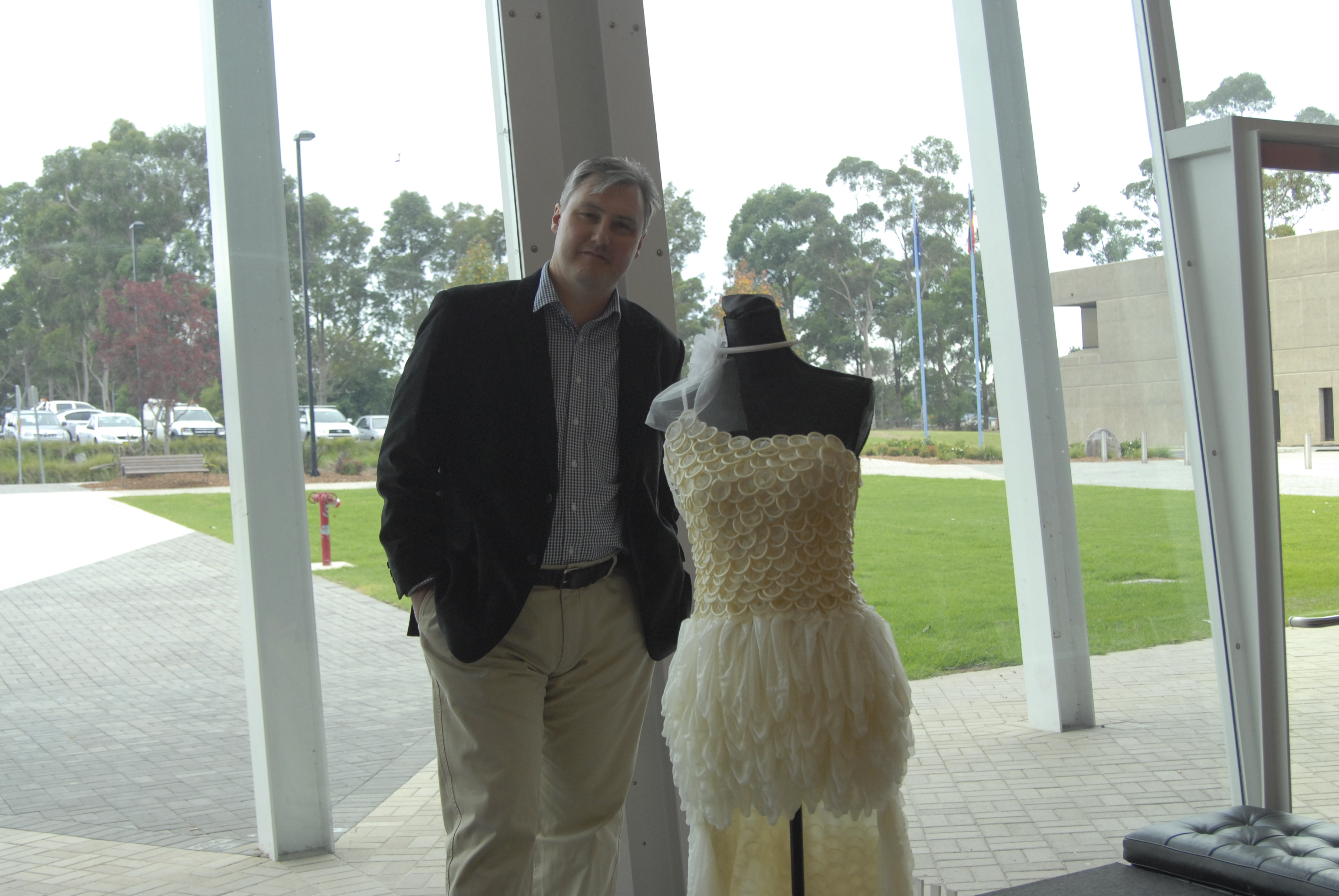 Believe it or not, another designer created a wedding dress made of condoms in 2006. That dress was made of purple condoms and commemorated World AIDS Day.
Check out more unconventional celebrity wedding dresses in the slideshow below.
Non-Traditional Celebrity Wedding Dresses
Honey Boo Boo's mom wore a camo dress as she married Sugar Bear in Georgia on May 5.

The fashion icon famously wore black on her wedding day in 1997 -- she married Matthew Broderick. "I'm not kidding. White it up," she told Harper's Bazaar of her black dress. "I'd wear a beautiful, proper wedding dress, like I should have worn that day [if I renewed my vows]." See the dress here.

Knightley sported a short tulle dress -- which she reportedly wore to the BAFTAs in 2008 -- as she tied the knot with James Righton in France on May 4.

The "Little House on the Prairie" star wore a red dress as she married "Thirtysomething" actor Timothy Busfield in Santa Barbara, Calif., in April 2013.

Biel wed Justin Timberlake in Italy in 2012 wearing a pink Giambattista Valli gown.

Hathaway wed Adam Shulman in a custom pink Valentino gown in 2012.

Tamblyn tied the knot with David Cross in a yellow dress in 2012.

Witherspoon married Jim Toth in 2011 in a blush pink gown.

Richie wore not one, not two, but THREE custom-made Marchesa gowns at her wedding to Joel Madden in 2010.

The director married Thomas Mars in purple Azzedine Alaia in 2011.

When "Step Up" co-stars Jenna Dewan-Tatum and Channing Tatum tied the knot in 2009, Dewan-Tatum wore a blush strapless gown with a feathered skirt (click for photos).

When Portia de Rossi married Ellen DeGeneres in 2008 she donned a Zac Posen gown that featured a blush tulle skirt. DeGeneres wore a suit.

Anderson wore a tight white mini-dress before slipping into a white bikini and sailor hat as she married Kid Rock in 2006.

When Dita Von Teese married Marilyn Manson in December 2005, she wore a royal purple gown by Vivienne Westwood. Von Teese and Manson split in 2007.

Moore married Bart Freundlich in this lilac Prada frock in 2003.

Stefani got hitched in this ombre gown in 2002.

The always-original Taylor wed Richard Burton for the first time in 1964 in this yellow dress. The pair divorced but then reconciled and when they re-married in 1975, Elizabeth wore green.

Hollywood legend Marilyn Monroe chose an unconventional fur-collared brown suit for her city hall wedding ceremony to baseball player Joe DiMaggio in 1954.
Keep in touch! Check out HuffPost Weddings on Facebook, Twitter and Pinterest.