We're very excited to syndicate one of our favorite columns, 'What Is It? What Is It Worth?' from one of our favorite magazines, Country Living. All text and images below are provided by Country Living. Get ready to be surprised!
"This patriotic kerchief sent me back $400—I couldn't resist. Did I overspend?" - B.B., Lehi, Utah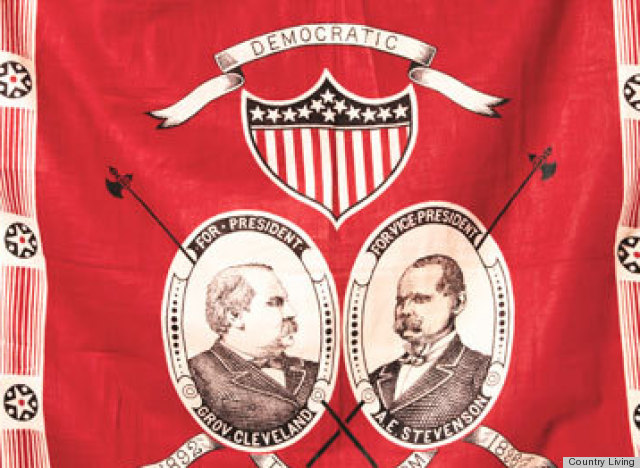 1892 Presidential Campaign Bandanna
Professional appraiser Helaine Fendelman identifies and evaluates your collectibles and antiques.
WHAT IS IT?
Starting in the 1840s, presidential hopefuls inspired a variety of bandannas bearing the candidates' portraits and, sometimes, catchy slogans. Voters showed their support by hanging the fabric squares on walls and wearing them as headbands or scarves. Such textiles were as ubiquitous then as campaign bumper stickers are now. This find depicts Grover Cleveland and Adlai E. Stevenson, the duo who won office in 1892, when this kerchief would've cost about 75 cents. Political-souvenir bandannas fell out of favor in the mid-1900s — Dwight D. Eisenhower was the last candidate featured on them. Today, though, collectors prize these relics — especially examples like this that are still in great shape.
What's It Worth: $1,200
Also check out on CountryLiving.com:
37 Ways to Make Something New Out of Something Old
Click through our slideshow to see other fabulous vintage finds from Country Living.
What Is It? What Is It Worth?
Together, the words vintage and Mickey Mouse sound like a recipe for a fortune. But is it? Learn how Country Living appraised it.

This unusual relic is certainly worth a great deal more than we expected.

We didn't even know eggs were scaled back in the day. But if you happen to have one of these lying around your attic, you ought to consider selling it. They're worth a pretty penny.

Find out how much Country Living appraised it for.

When's the last time you saw one of these?

We couldn't believe how much Country Living appraised this for.

This retro-chic coat is worth a lot more than you'd expect.

You'll neve believe how much this vintage toy bus is worth.

This Victorian chair is worth a pretty penny.

Check out how much this well crafted, mid-19th century storage chest is worth.

Ever wondered how much antique call boxes are worth nowadays?

Here's an assessment in case you were planning on picking one of these Match-Matic cameras up on your next trip to the vintage shops.

Love the duo? Find out how much their vintage records are going for.
Have something to say? Check out HuffPost Home on Twitter, Facebook, Pinterest, Tumblr and Instagram.
**
Do you have a home story idea or tip? Email us at homesubmissions@huffingtonpost.com. (PR pitches sent to this address will be ignored.)