'Pregnant' Woman Steals Strawberry Daiquiri At Gunpoint (VIDEO)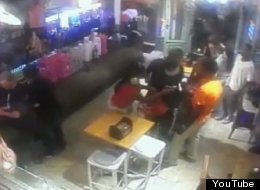 They say pregnancy cravings are intense, but this is ridiculous.
An unidentified woman in New Orleans described by cops as "possibly pregnant" was caught on tape early Sunday stealing a strawberry daiquiri at gunpoint, WWL reported.
Police say the woman, who appears to be in her mid-to-late twenties, went into the Bourbon Street daiquiri shop at about 2:30 a.m. and grabbed a daiquiri from behind the counter.
The video shows an employee confronting the woman, who whips out a gun and begins threatening the employee.
The cocktail crook isn't the only thief to be caught on tape in recent weeks. Last week, police say surveillance video at a Washington State lingerie store caught a man in a wig first stealing a mannequin, then returning for lingerie and sex toys.
And in May, a woman in a stylish green dress was allegedly caught on camera robbing an Iowa bank.